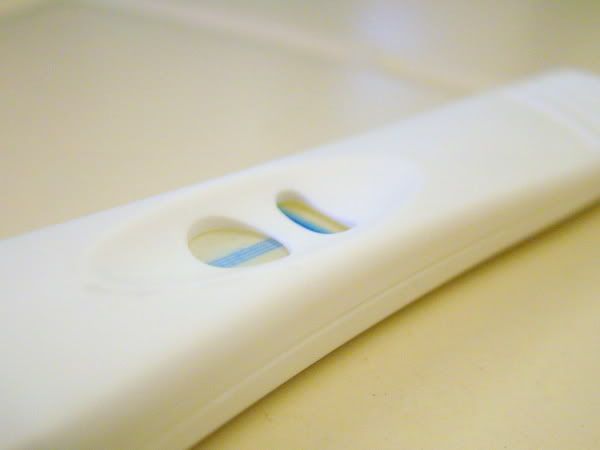 I'm still nursing in the middle of the night, so it's no surprise that my cycle hasn't returned to normal. Why am I even thinking about being pregnant? My youngest is barely 3 months old! The thick sleepless fog that descends upon those first few postpartum months has not yet erased from my memory the discomfort (to put it mildly) of being pregnant. I have three wonderful children now, and while we are open to the idea of having another, we're not actively trying. So why did I take a test, secretly hoping it would be positive?
Let me rewind to 1999. I got married that year. Young and idealistic as we were, several months into our marriage we decided to throw caution to the wind. I stopped taking birth control pills and waited with nervous excitement for that first positive pregnancy test. That first month I didn't have a period. I remember sitting in our little bathroom, analyzing and over-analyzing, in every lighting situation, every water mark that could possibly be a positive result. But it wasn't positive, I had just not ovulated that month. The next month the same thing happened. Then another. Then another. 10 anovulatory months and countless pregnancy tests later, I finally had my first post-pill period.
One period a year. This was not going as planned.
We were not in a place financially where we could do all the fancy infertility treatments, so we decided to just go it alone. 4 years and every Robitussin, Fertility Friend, internet test strip, temp chart, message board, folic acid, baby aspirin, and liquid vitex (that one actually worked to bring on ovulation) remedy in the homeopathic textbook later, we were still not pregnant.
I looked down at my stomach and cried. Why wasn't I working? What was wrong with me? My doctor had no answers.
Then, one November day, something happened for the first time ever in my life. I had in my hands a positive pregnancy test. I started quivering and my eyes stung from the coming tears. I couldn't stop smiling! My husband was in the next room, typing away on the computer. I composed myself, put my hand on his shoulder, and nonchalantly suggested that we go out to dinner that night. There, in the restaurant, I told him the good news. He was visibly shaken, in a good way. Neither of us ate much, and everyone else in the restaurant must have known that something major was happening to us.
We decided to tell our parents the good news in the form of a Christmas present. I sat there, in my mom's condo with my brothers and sisters scattered around the room, waiting for my mom to open the present that would reveal our secret. I felt uneasy for some reason. She opened the box containing a bib that said 'World's Greatest Grandma', realized what it meant, and started crying. I started crying, too. My mom knew how long we had been struggling with infertility and it meant so much to her to know that we were finally successful.
However, my uneasy feeling got worse. I realized as I was sitting there on the couch discussing pregnancy with my excited family that it was more than just a feeling--I was cramping. Nervously, I excused myself, went into the bathroom, and discovered that I was spotting as well. I cried a second time that night, with the knowledge that the bleeding probably meant I was miscarrying. I didn't have the heart to tell my mom 'just kidding' right after giving her such good news. I pulled my feelings in, walked out of the bathroom, and pretended like everything was ok for the rest of the night.
A miracle happened the next day. There, lying on the exam table with my firefighter standing at my side, we saw the little heartbeat that showed a precious life still flickering away. Surrounding this tiny being was a sea of blood that showed up as a circle of thick white haze on the ultrasound. The doctor told us we had a 50/50 chance of miscarrying.
One evening two weeks later, I was relaxing in the tub when I again felt uneasy. I looked down to see the water quickly turning red. I was shaking so forcibly that I could barely make it out of the bath and into bed. I called my firefighter, who was working a shift as an EMT at that time, prayed hard, and cried myself to sleep. Amazingly, we got another glimpse of our peanut the next day, alive and well. I had a third bleeding episode a few weeks after that. Again, we went into the doctor's office fearing the worst, and came out with another picture of our little fighter.
Here is her journey, from peanut to person: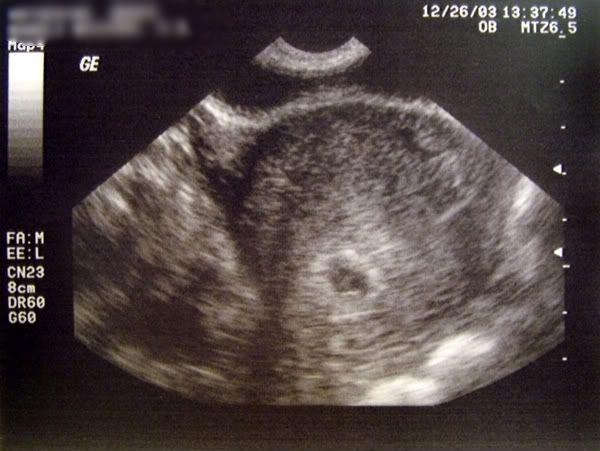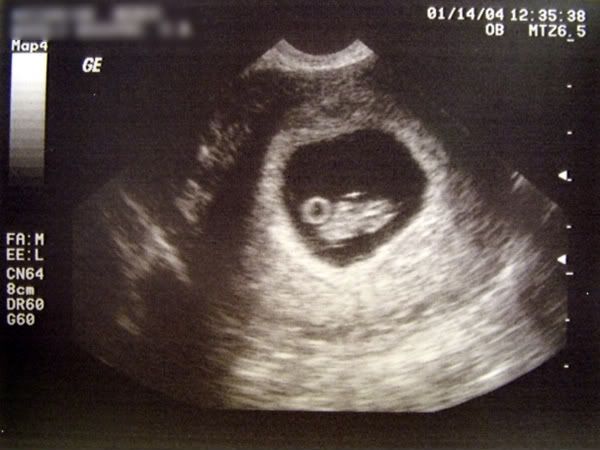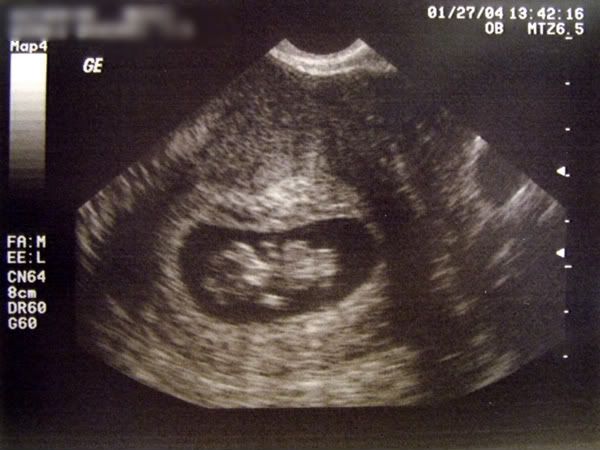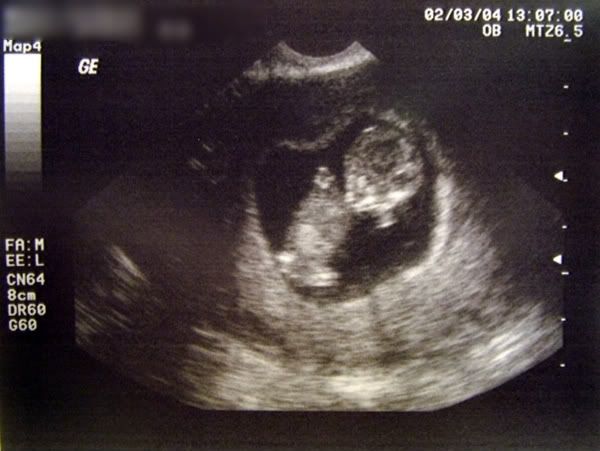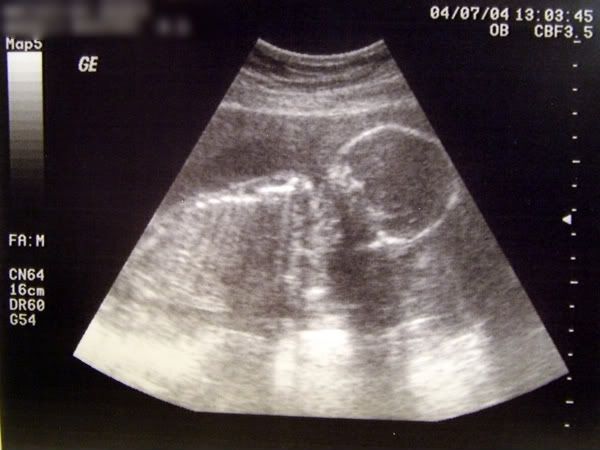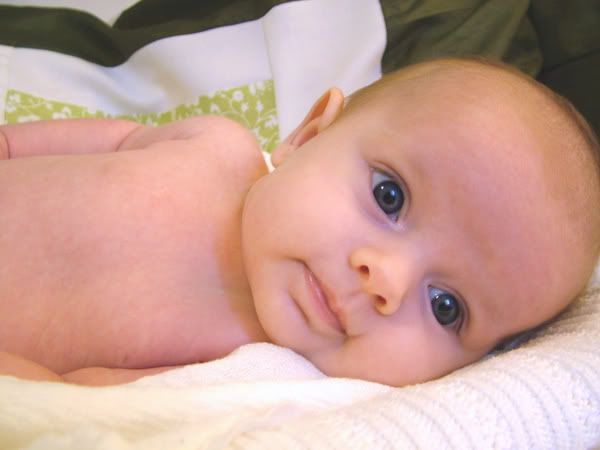 After my oldest was born, it did something to my body and I was able to ovulate every other month instead of only once or twice a year. It was still work to get my next two children here, but nothing like that first pregnancy.
After so many years of trying to conceive, I don't think I'll ever be able to turn off the feeling of disappointment when looking at a negative pregnancy test. These days, however, the feeling is short-lived. I am sad for a moment, but then hear my two year old saying 'uh-oh' in the other room, and it's back to reality--back to being mom. I am so thankful for the opportunity to be called mom!