"I'm so tired - it was a long shift and we ran 2 calls last night."
"I'm really tired too - I had to get up something like four times last night to get the baby and he wouldn't go back to sleep after 5."
"Well, at least you're home when I'm gone and can nap in your own bed during the day. It's not the same as being on duty the whole time."
"...but I am on duty the whole time! There's never a time when I get to leave work - I can't just stop being mom after my shift ends. I usually wake up more often than you do during the night. Plus, I have to nurse the baby, which makes getting up at night even more time consuming. You never give me credit for nursing him."
"Well, you never give me credit for working so many hours a week. Plus, when I run a call at night, I have to get up, get dressed, be up for an hour or so, and then try to get back to sleep."
"At least you're dealing with adults. I have to deal with illogical babies."
"But I have to deal with the stress of being the probie. I can't ever relax."
"And you think I get to relax with 3 children?!?"
I can't tell you how many times my firefighter and I have had this back-and-forth. The prize for winning this particular argument is highly coveted - agreeing on who's turn it is to sleep in on a day off. This is one argument where we're both willing to pull out the big guns, like having to deal with massive amounts of diarrhea (which, either one of us may have to face in our respective jobs), to win the right to sleep in.
Last night however, there was no argument. I won, hands down. My firefighter is taking a trip to Los Angeles to work a shift with his old crew. I get to stay here and take care of the children while he visits his friends. So, in return for his luxuriously kid-free vacation days, I got to not only sleep in, but have the entire night off from any sort of child-related disturbance. I hooked my firefighter up with a bottle, hooked myself up with a book, kissed everyone goodnight, trekked downstairs and took a vacation in my own guest bedroom.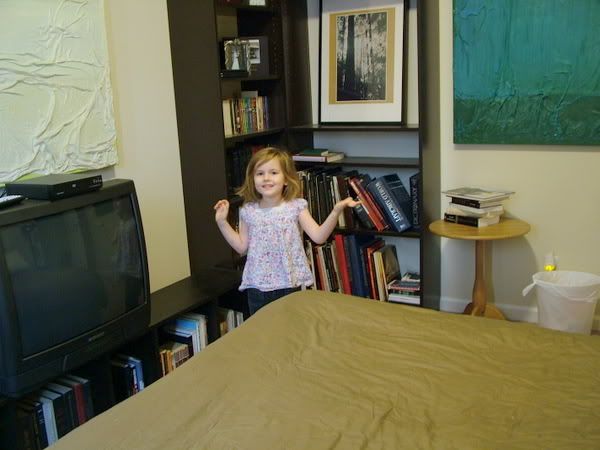 My 4 year old thought it was pretty silly that I was sleeping downstairs. It felt pretty silly. Actually, it felt like my firefighter and I had just had a massive argument. But after I got over that sensation, it was truly a welcome break. I can't remember the last time I closed my eyes and didn't open them again until it was time to get up.
My firefighter ended up getting about 2 hours of sleep between all of the feedings of the baby, whom I assume is going through a growth spurt. My husband was a good sport about it. The baby was good about it, too. He was happy - not a lot of crying - he just wouldn't sleep. Apparently he thought this new arrangement was silly, too. Every time my firefighter tried to feed him, he would look up and give him a big smile as milk dribbled out the corners of his mouth. It's helpful to have a happy baby for those midnight feedings. Now if we could just get him to stay asleep. Any suggestions?
The best part? I think my firefighter's horrible sleepless night has the potential to benefit me in future arguments about who needs a break the most!