Well, I guess it's true what they say—
never bring a zester to a knife match!
Thanks to the generous folks at CSN, I am happy to be able to send one of my readers this fine chopping instrument.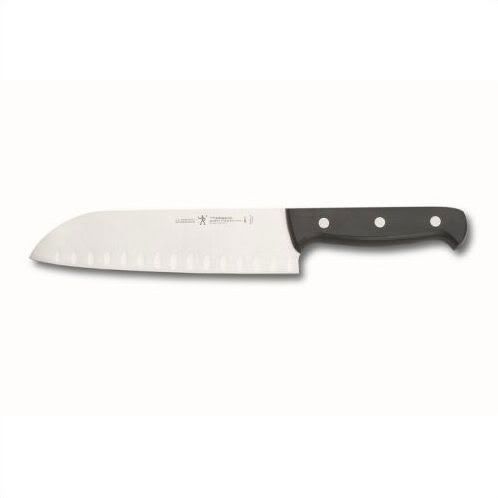 Here's the skinny on the knife:
This asian styled knife features a broad blade and especially sharp cutting edge. The all around winner of the asian kitchen can be used threefold: for preparing meat, fish, and also vegetables. All santoku knives by J.A. Henckels have a fine-polished razor edge that gives them their typical sharpness. The hollow edge is ideal for extra thin cutting.

Features:

* Precision, stamped construction for durability through the full length of the knife
* High quality, German stainless steel blades are durable, stain and rust resistant
* Black, satin-finished polypropylene handles with triple rivets
* Fully visible tang construction provides proper balance
* Handwash recommended
* Lifetime warranty against defects in material and or craftsmanship
To enter the contest, all you have to do is reply to this post.
Do you hand wash your knives, or stick them in the dishwasher?
I used to hand wash them meticulously. But lately, I've decided that our relationship would be much better off if I put them in with the rest of the dishes and save myself some time and effort. Sorry, knives.
Entries will be allowed until 8 a.m. on Monday, the 8th, at which point I'll choose a random winner and announce it here. The winner will then be contacted if you have an email address associated with your post. If not, the winner can contact me at firewifekatie@gmail.com and we can get the knife on it's way.
Any takers?