Every time I finish a do-it-yourself project, I swear I will never attempt another—ever. I watch HGTV and they make it look so easy and quick. Then I start in on a project myself, and two days later, I'm still working on my "two hour" project.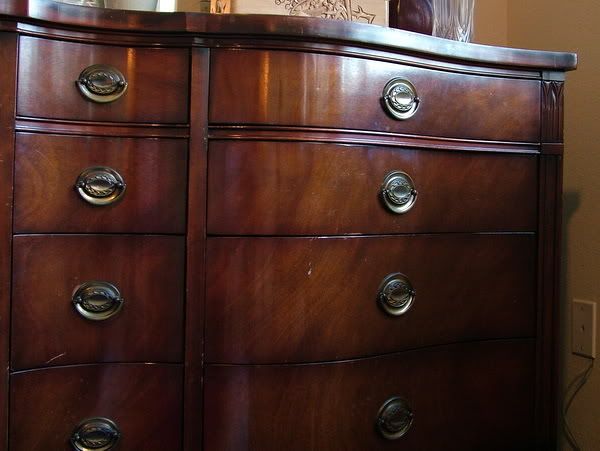 I thought painting this old beat-up dresser,
of nearly burned my house down fame
, and putting on new pulls would be fairly straight forward. Just a quick buff with a fine grit sandpaper to give the paint something to stick to, fill in the old holes and drill some new ones, a coat of spray paint, and voila—old dresser becomes contemporary again.
I gathered my tools: several sheets of sandpaper in varying grits, glossy black spray paint, rags for wiping off dust, a dropcloth, a drill, and all the bits I would need. I shooed the kids to their father on the other side of the door and locked myself in. I turned on Pandora, opened every window, and got to work.
First, I meticulously removed the contents of each drawer and laid it out in a grid on my bed. That way, I could just plop everything back into the appropriate drawer at the end of the day after the paint had spent a good long time drying. Then, I removed the hardware on the first drawer, sanded it down, and gave it a test coat of paint. So far, so good—it went quick. I just wanted to see what it would look like.
That's when I noticed that the old pulls had left oval-shaped dents in the wood. (As an aside, I had to look up the definition of "pulls" for my firefighter before he believed me that that's what the drawer handles are called. We spend a lot of time proving things to each other. All in good fun—especially when I'm right!)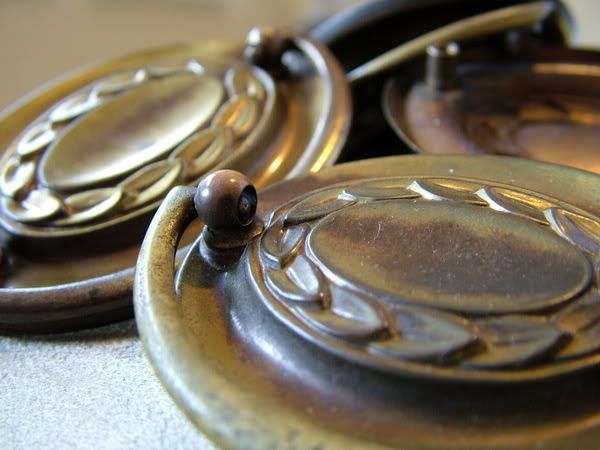 The glossy paint amplified the grooves in my test run drawer. All of the drawers would need to be thoroughly sanded down in that spot to make a flush surface. Small hiccup, I thought, since I needed to fill the old holes and would be sanding down that area anyway. The filler only takes an hour to set. Not that much of a delay.
Then I filled the holes, only to realize that the plastic-based filler takes a lot of elbow grease to sand down. Then I ended up gouging some of the holes in my over-zealous sanding and had to repeat the process. Then I sprayed the drawers. They came out great, a few of them just needed a touch-up. I was already about 4 hours behind schedule at this point.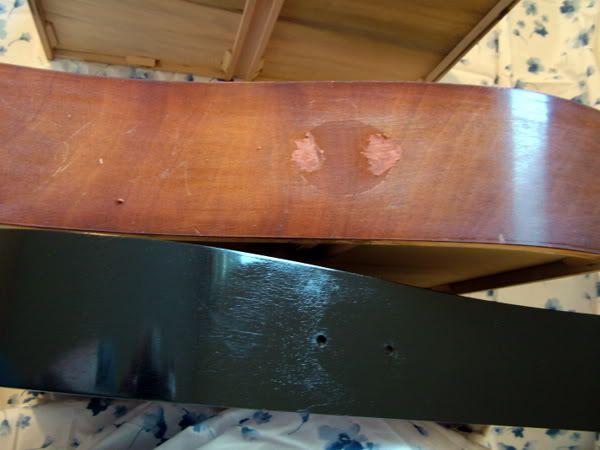 After fixing those few drawers, I realized that the sheen on the surface was speckled because I had sprayed the touch-up coat only where it was needed, instead of across the whole surface of the wood. So, another complete coat went on. Then I realized that the drawers that had two coats had a different sheen than the drawers that only had one coat.
Clearly, this was going to take more than one day. I swiped all of my carefully laid out piles off of the bed in frustration and called it a night.
After taking the morning away from the drawers, I came back to them. I started spraying the drawers that needed a second coat.
But something was wrong—the paint wasn't going on smooth. For some reason, the surface was buckling. The drawer would have to dry and be sanded for another attempt. In the meantime, I lightly sanded the next drawer—not enough to take the first coat of paint off, just enough to take the sheen off of the surface—and sprayed that one.
Again, the paint started buckling as it dried.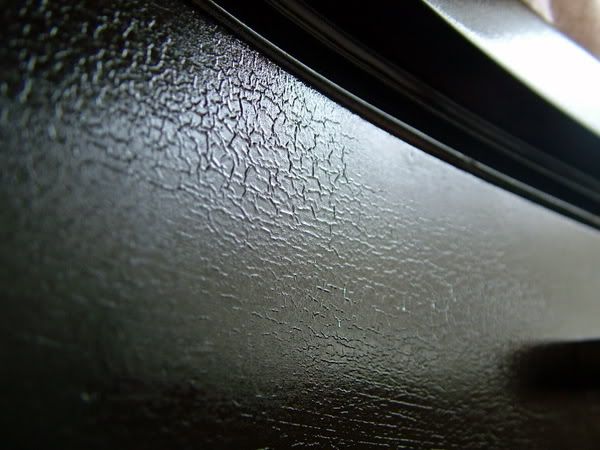 Argh! The dry first coat of paint was the problem. I looked at the label more closely, and sure enough, it told me that if I wanted a second coat, it had to be applied within an hour or so of the first one. But sanding all of those drawers down to the wood was going to take more time and effort than the dresser was worth.
At this point, I gave up. So, now I have drawers with three different sheens—the less glossy drawers that only have one coat, the smooth, nice-looking drawers that have two coats that were applied properly, and a few drawers that look like crocodile skin.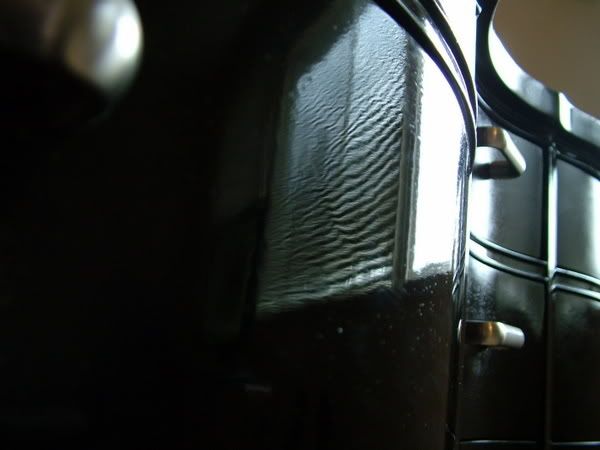 Don't even get me started on what it took to drill (and re-drill) holes for the pulls. I had to call in my firefighter to help drill the new ones in the curvy surface of the drawers. For some reason, even with both of us working on it, template for the holes and all, we couldn't get the openings to consistently line up correctly with the pulls.
It was two in the morning of the second day before we had everything drilled and painted. In all, my two hour project took about 12 hours between the two of us.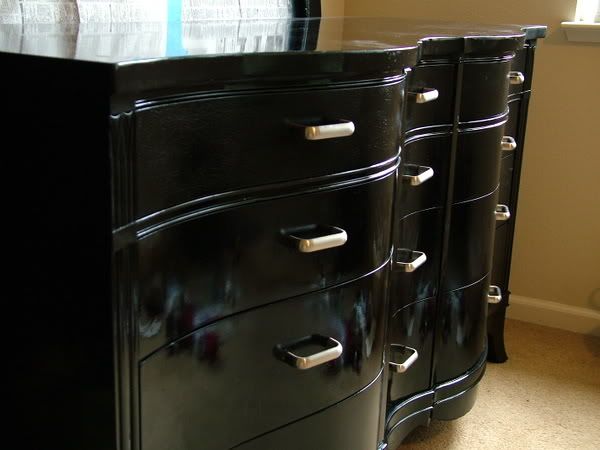 At least it looks pretty—as long as you don't stand too close!