...Or guacamole, I can't decide which it more closely resembles. Either way, this is a deliciously bright, textural, naturally sweet and savory Mexican dip.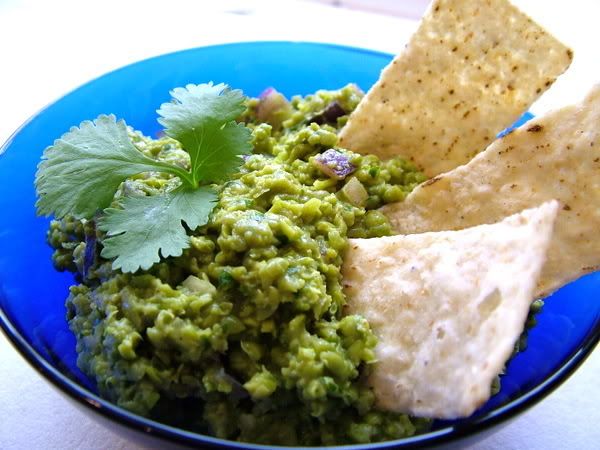 This is a variation of a recipe by Michael Roberts, from
Great Food Without Fuss
. Added bonus — it stays a lovely vibrant green and won't brown like guacamole does. This recipe could easily be spiced up a bit by adding more peppers.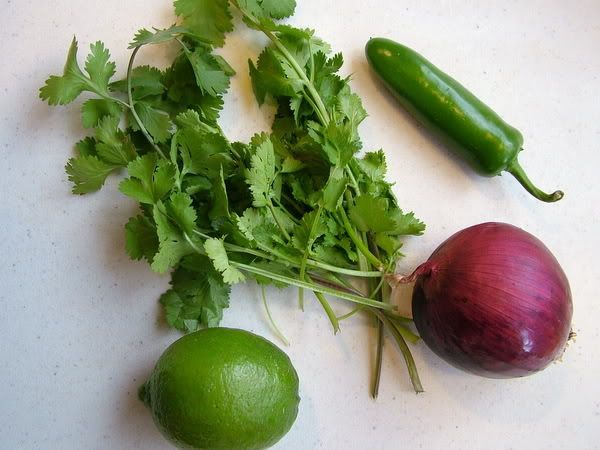 Cilantro and lime — is anything more heavenly?
Ingredients:
1 lb frozen petite green peas, thawed
10 - 15 sprigs fresh cilantro
1 jalapeño pepper, seeded
1/4 red onion, finely diced
Juice of 1 lime (2 tbsp)
2 tbsp olive oil
1/4 tsp ground cumin
1/4 tsp chili powder
3/4 tsp salt
Begin by thawing the peas. You can zap them for a few minutes in the microwave, or just place them in a strainer and run warm water over them. Set them aside and let all the moisture drain off. While the peas are draining, remove the leaves from approximately 10 large sprigs of cilantro and place the leaves in a food processor or blender.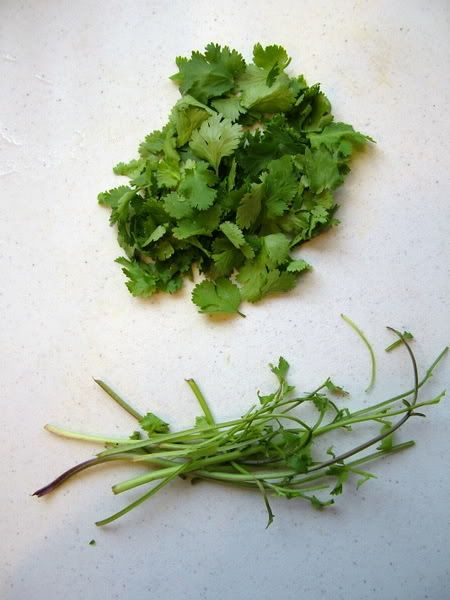 Next, split one jalapeño pepper (or two Serrano peppers). Lop the stem off and scrape the seeds out with a spoon.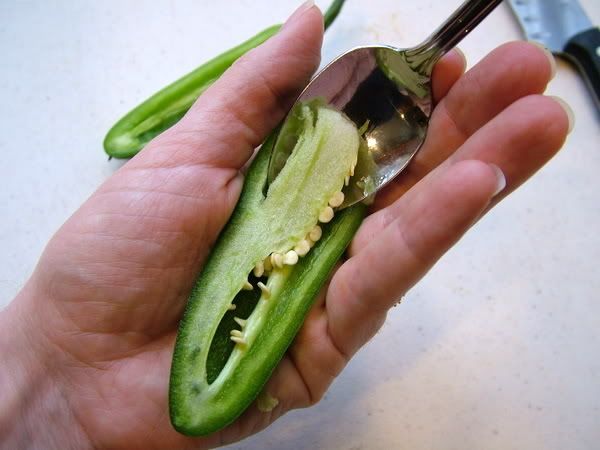 Add the de-seeded peppers, along with 2 tablespoons of olive oil and the juice of one lime, to the food processor.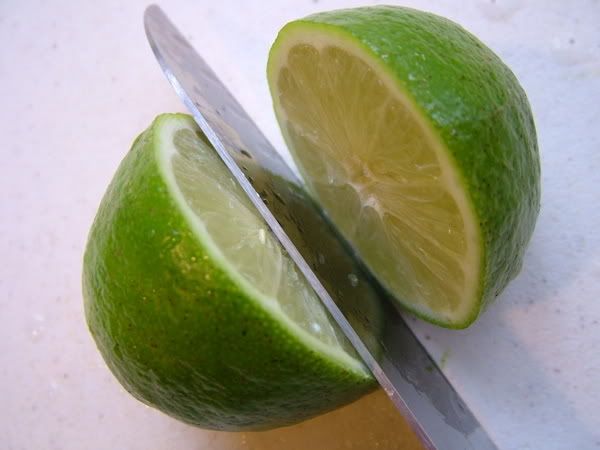 Pulse the mixture, scraping down the sides with a rubber spatula as needed, until this...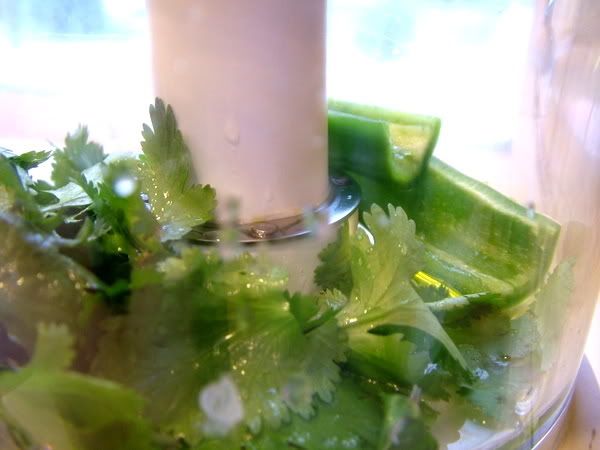 resembles this.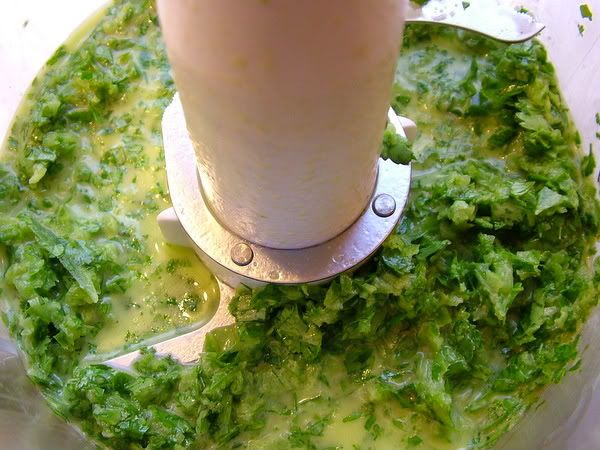 Inhale the bright citrusy goodness and transport yourself to a little place near L.A. that sells the most intoxicating fresh fish tacos.
When you return, add the thawed peas, ground cumin, chili powder, and salt.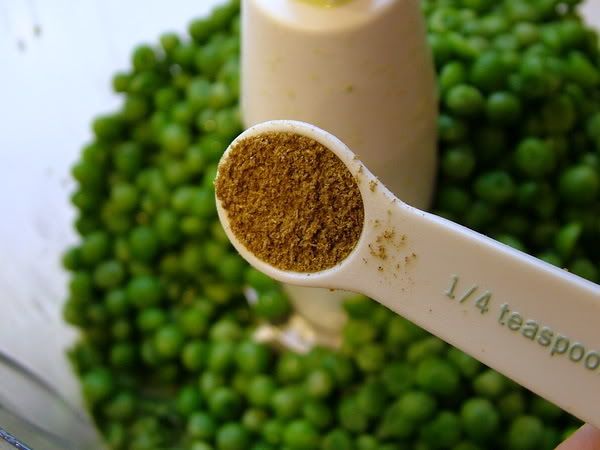 Pulse until the mixture is thoroughly blended.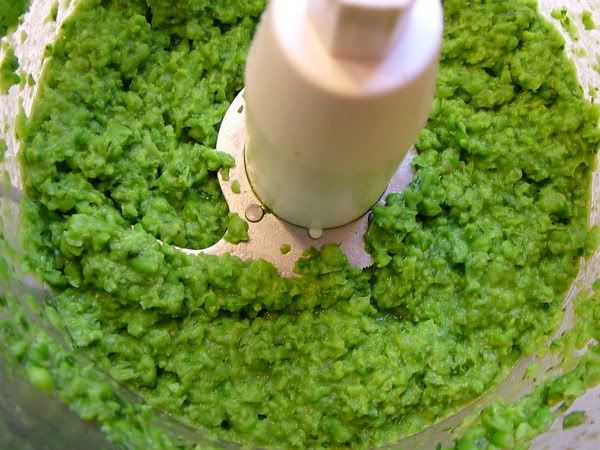 Finally, finely dice a quarter of a red onion.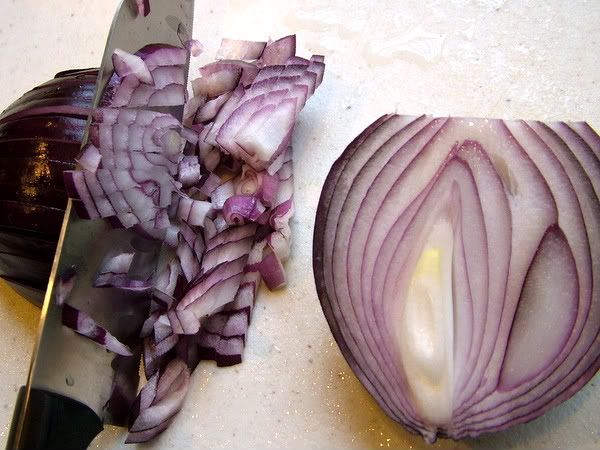 Stir the onion into the mixture.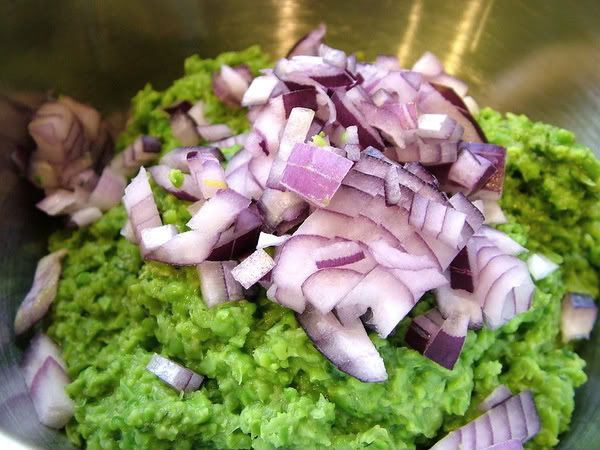 Serve with salty tortilla chips, or with any recipe calling for guacamole as a garnish.