To round out my tribute to my teenage years, here's a recipe reminiscent of the chocolate mint brownies my friends and I used to make. Thank you, person who first paired mint with chocolate, for creating a craving that no other flavor combination can satiate.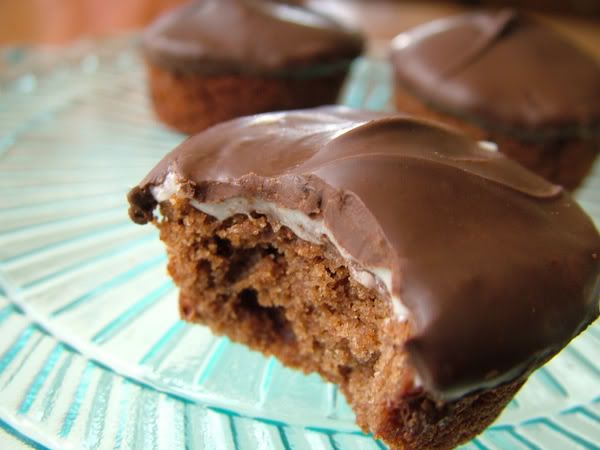 Ingredients:
Brownies:
1 1/2 cups sugar
3/4 cup butter
1 1/2 teaspoons vanilla
3 eggs
4 tablespoons baking cocoa
1 1/4 cup flour
3/4 teaspoons salt
3/4 cup chocolate chips
Mint frosting:
1/2 cup butter (one stick), softened
1/2 cup cream cheese (4 ounces), softened
1 1/2 cups powdered sugar
1/2 teaspoon vanilla extract
1/2 teaspoon peppermint extract
Chocolate ganache:
1 cup chocolate chips
1 teaspoon canola oil
Yield - approximately 24 brownie bites.
Directions:
Preheat the oven to 325°. Begin preparing the brownies by stirring together the flour, chocolate powder and salt, and set aside.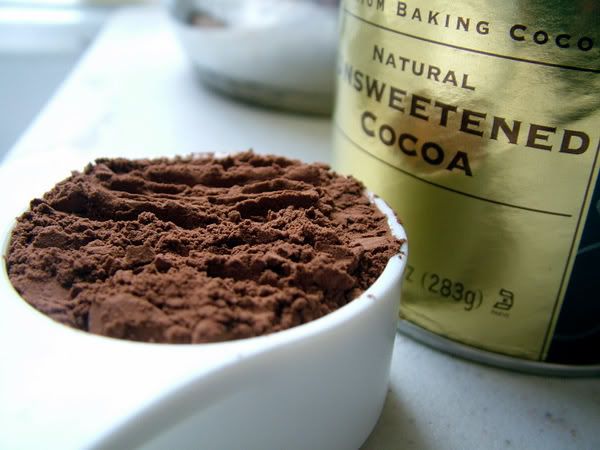 In a separate bowl, cream together the softened butter and the sugar. Mix in the vanilla and the 3 eggs to the butter and sugar mixture, one at a time, until combined.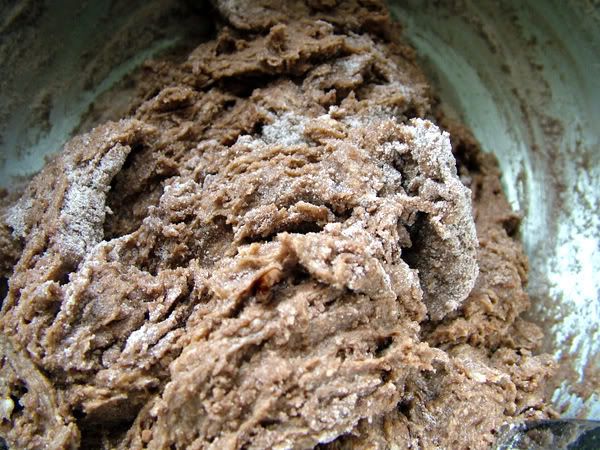 Fold in the dry flour mixture. I prefer to do this by hand, so that the batter isn't over-mixed, just until the dry ingredients are absorbed and moistened. Add in the 3/4 cup of chocolate chips and stir until combined.
Grease and flour a mini-muffin pan (or use that handy dandy baking spray with flour that does it for you.) Spoon in the brownie mixture, filling each depression about half-way.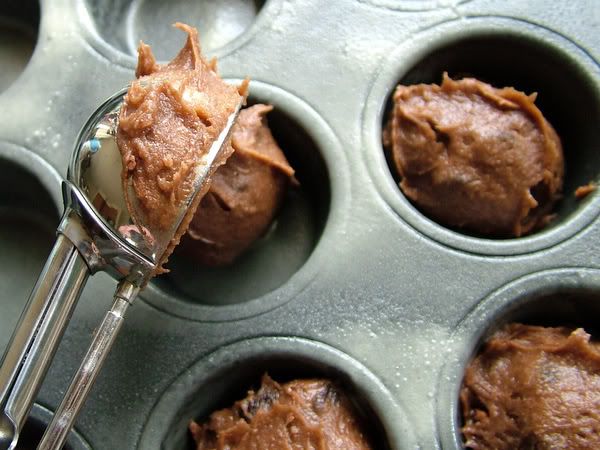 These small ice cream scoops are the perfect size for mini-muffin tins.
Bake the muffins at 325° for 15 - 18 minutes.
When the muffins are done, remove them to a cooling rack and place them in the refrigerator.
Mint frosting:
Cream together the softened butter and softened cream cheese. Luckily my microwave has a "soften" button; it makes the process a lot more immediate and less dependent on my faulty memory.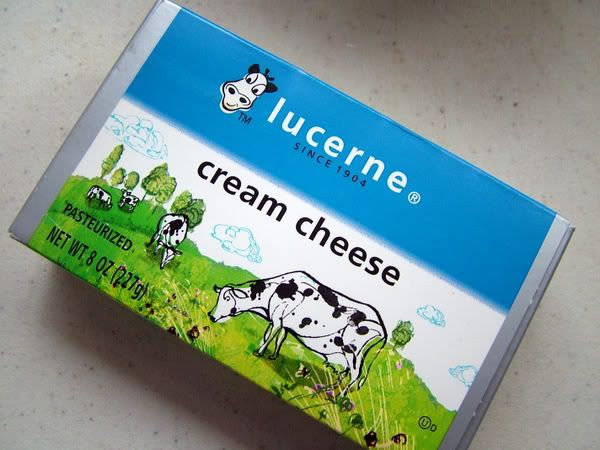 Add in the 1/2 teaspoon of vanilla and the 1/2 teaspoon of peppermint extract and mix thoroughly. You could add in some green food coloring at this point or more peppermint extract, if you like. Add in the powdered sugar, a little at a time, to avoid the big white powdered sugar dust cloud that occurs when you dump it into a spinning mixer all at once (not that I've ever done that before...)
Place the frosting in the refrigerator, if you have room, now that there's a big ol' plate of brownies in there.
Once the brownies are thoroughly and completely cooled, frost them with the mint frosting and return them to the fridge — or better yet, the freezer. These puppies do much better with the chocolate ganache phase if they're basically frozen.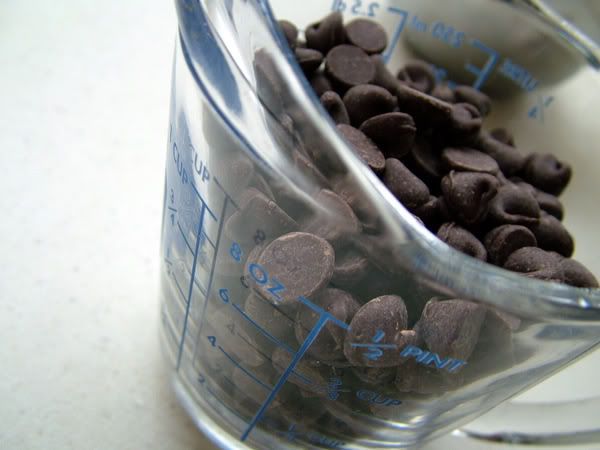 Chocolate ganache:
When your brownies are nice and cold and ready for the chocolate topping, place the chocolate chips into a bowl and microwave for a minute. Stir the chips around to aid with the melting and put the chocolate back in for another 45 seconds. Continue checking every 45 seconds until the chips are completely melted. Then stir in the canola oil to thin it out a bit.
Take each frozen brownie and dip it in the chocolate, rotating the brownie to get a good coating of ganache on it.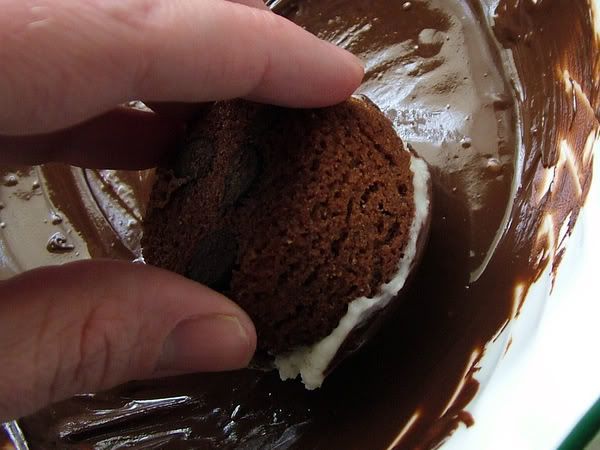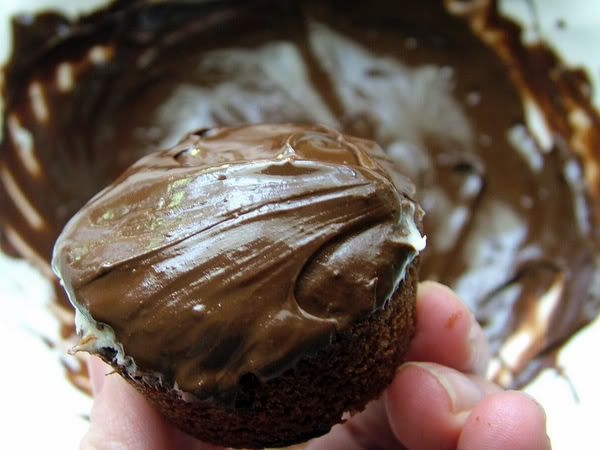 Place completed brownies on a plate to let the chocolate set. Freezing the brownies before-hand helps the chocolate to set up. But if it's still not hardening fast enough, you can place them in the fridge.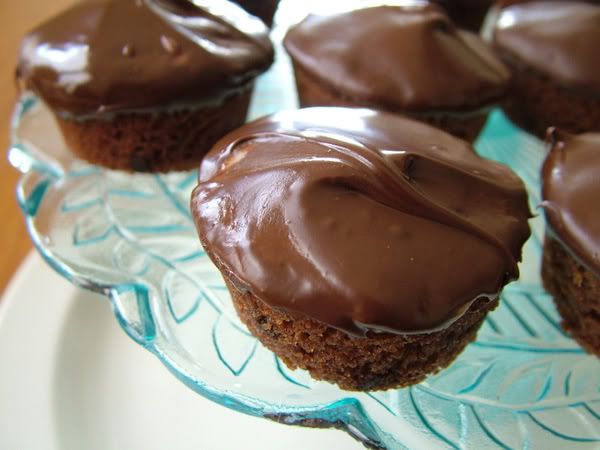 Please note — these little brownies have a tendency to dry out, so try to cover them as air tightly as possible when cooling and storing.
Here's
a link to a printable version of the recipe
.