Yesterday was pretty much a failure as far as being a mom is concerned. I just wasn't on the ball enough to prevent the little tragedies that occurred. The itinerary looked good on paper — run errands, go to the park to teach my 5 year old to ride her bike and get some pictures, then introduce the children to Slurpees.
Sometimes it just doesn't turn out as idyllic and happy as imagined.
The bike riding went well.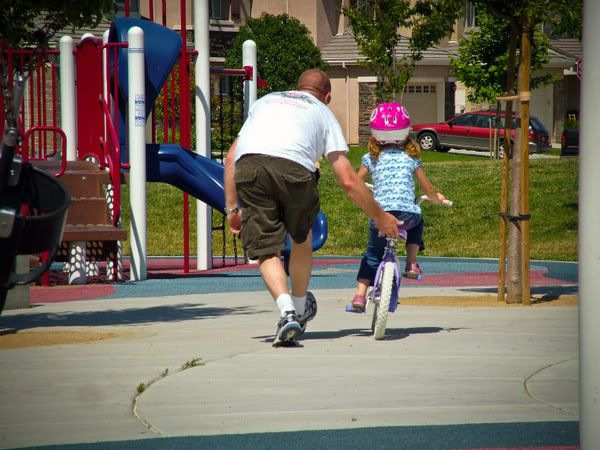 My daughter was so excited when Dad said he would take off her training wheels. It was the topic of discussion for days as she chatted with the older neighbor girl across the joint backyard fence. We prepared her for the disappointment of not getting it right on the first day she tried. She knew it was going to be difficult and was up for the challenge.
While she and her dad pulled the bike out of the back of the car, I unbuckled the youngest. There was no one at the park — it was perfect. Well, aside from being a pretty hot day. I put the toddler down so that he could explore and I walked up to the play structure. The metal bars were warm to the touch, but tolerable. I touched the swings, the brown steps, the panels along the deck — all were acceptable.
My three year old declared it to be too sunny to play and clung to my leg as I pulled the camera out of my bag. The baby walked up and down the small grass embankment.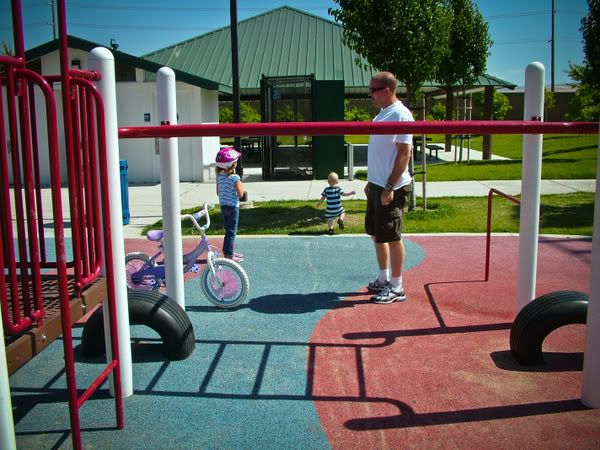 My daughter zoomed back and forth and I followed along through the lens, while trying to convince my blond-haired boy that the sand wasn't hot. I stepped into the middle of the sand pit, hoping he would follow me. He took a tentative step off of the cement sidewalk. My daughter made some good progress on her bike, but she still has a long way to go. She doesn't have the whole steering thing down. Not to mention, the issue of stopping gracefully.
That's when I heard my youngest, who I had just taken a picture of moments earlier, scream.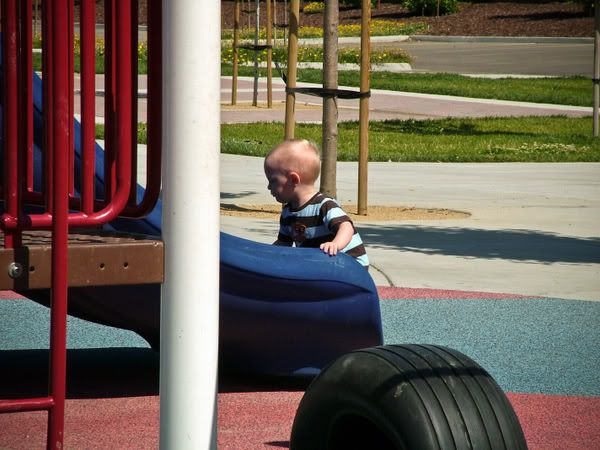 I couldn't figure out what was wrong; he was in the same spot he was just at a second ago, happily playing. My firefighter was close to him and ran over and picked him up to see what was wrong.
Apparently, I missed the one piece of playground equipment that had become fiercely hot in the afternoon sun — the blue slide. After a minute or two of tears, he was fine. He had been playing near it for less than ten seconds and had no lasting red marks, but I hate hearing that heart-breaking cry for help when something is seriously wrong. Especially when it's because of me that he's hurting.
We packed up and went home; the Slurpee education deferred till another day.
Once in the house, my daughter did what she always does — she asked if she could go outside and play. I told her she could, but she would have to be careful about leaving the door mostly closed so that the baby wouldn't go out. She happily ran outside, hoping that one of her neighbor friends would be available to discuss the events at the park. If not, she had a mud hole to tend to.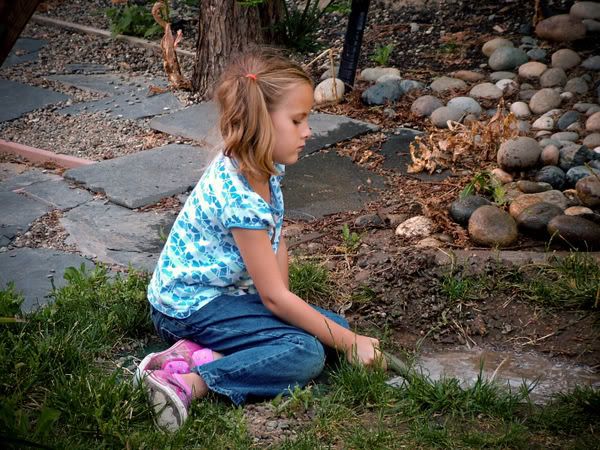 Half an hour later, I heard a faint cry. My sensors all went on high alert as I darted around to locate the source. The boys were still playing in the next room. It was my daughter. Usually, she's very vocal when something goes wrong outside.
"MOOOOOOM! There's a SNAIL on the ROCKS!!" She's also notorious for making sure that I (and all of the neighbors within a mile radius) know when my 3 year old makes it outside without his pants on.
But this time, she was quietly sobbing. There was no drama — just earnest tears. I opened the sliding glass door the rest of the way and walked around to the side of the house. There she was, her face red from crying while standing in the hot sun, frantically trying to tell me something about a mosquito.
"Honey! What's wrong? Are you hurt?" I got down on her level and reached out to give her a big hug.
"No."
"Then what's wrong? What happened?"
She brushed aside the lock of hair that was plastered to her cheek by sweat and tears. She had clearly been crying for a while. "I was playing, and I wanted to come back inside, but there was a mosquito! It was right on the door!"
"The mosquito was scary?"
"Yeah. It was going to suck my blood and KILL me!"
Just talking about it made her start crying again. "Honey, mosquitoes won't kill you. They just make you itch."
"...But Kylie (the neighbor girl) told me that if I get bit by a mosquito it will drink all my blood, and I'll DIE!" I could tell that she honestly felt like her life was in jeopardy. And we would need to have a discussion about the definition of exaggeration, and believing everything her friends say.
"So you saw the mosquito and you were scared, but why didn't you call for me?"
"Kylie told me that if I scream for mom or dad, mosquitoes will find me and get me!" Her eyes were big. She was skeptical of the conflicting information she was getting from me and her good friend.
"They won't get you. You can always, always scream for mom and dad, no matter what ANYONE else ever tells you. Okay?"
"Okay."
"Mom?" she asked as we turned to walk back inside. "What, honey?"
"I had a thought that I should pray for the mosquito to go away, but it didn't work." She looked disappointed.
I smiled back at her. "I think it did work. I heard you crying when I was inside, even though you were outside and really quiet. And when I opened the door, the mosquito went away, didn't it?"
"Oh yeah!" She was feeling better about things. That was, until we got to the door and she saw her foe had returned to his spot at the base of the glass. It apparently was a favorite spot, because he returned later that day and I was able to get a picture. "The mosquito!"
I calmly shooed the beast away, opened the door to let her in, and then launched into a discussion about the difference between a mosquito and a mosquito hawk.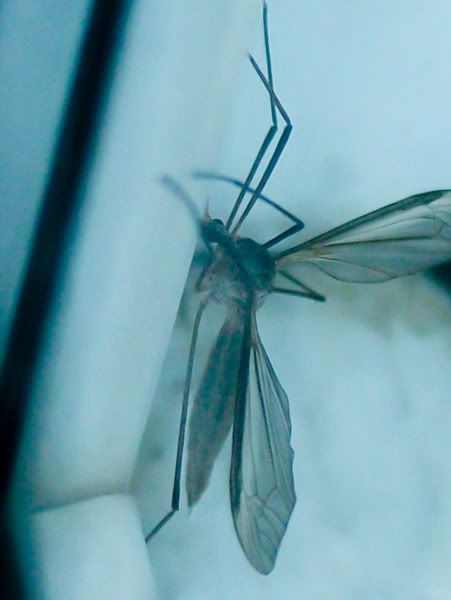 Later that day, after she and I had our discussion about friends and hyperbole and trusting mom and dad more than friends, she showed me this.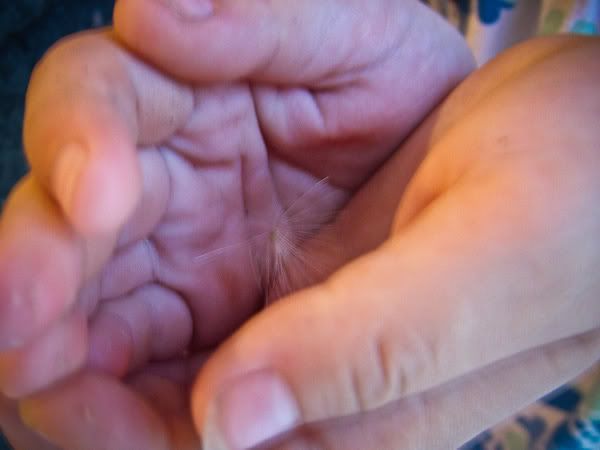 "You can make a wish on this, and then it blows on the wind. But the wish doesn't REALLY come true." She was showing me that she does know some of the boundaries between real and pretend.
She opened the door and let the wind take the weed fragment out of her hands.
She made a grand sweeping gesture with her hands and said "be FREE, my fuzz! Be free!"