I loved being a first-time mom. I knew everything there was to know about babies. Your little one won't take a bottle? Well, just use this brand — it worked for my child, so it's bound to work for yours, too. Baby won't settle down at night? All you have to do is swaddle tightly and put the paci in, and place her in a vibrating bouncy chair. Does the trick every time. I had a solution for everything. It wasn't until the second and third that I realized just how little I know.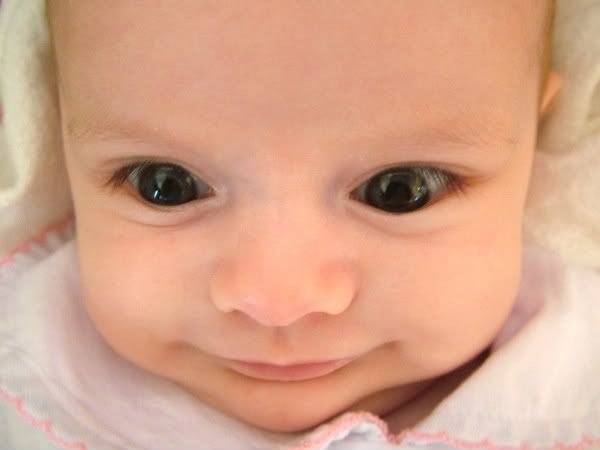 Someone recently asked me how I get a shower in, with three young ones and days when I have to go it alone. Let me preface this by saying, I still know nothing!
I wish I had appreciated how much my daughter loved her bouncy seat when she was itty bitty. I didn't realize how good I had it. She would sleep peacefully there for hours. So why did I feel so uncomfortable letting her rest in it in the other room for fifteen minutes while I took a shower? What was I so afraid of — that she'd wake up and *gasp* fuss for five minutes? Instead, I'd maneuver her little seat into my tiny pink bathroom so that I could be right there with her, just in case she woke up. And the sound of the shower always woke her up, of course.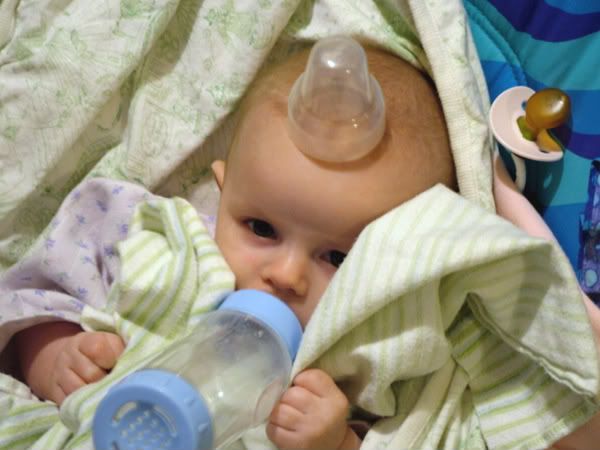 My daughter, in her bouncy chair. (My husband took this picture - can you tell?)
Two more children later, I am much more at ease about taking a shower while my little ones sleep.
It's when they're awake that it becomes tricky. And with three, one is almost always awake. Here's the problem with them interrupting me while I'm trying to take a shower. With my oldest, well, she's at an age where lifelong memories are being formed. Nuff said. My second is the easiest to distract while I shower, but he's also the most persistent and creative when he does realize where I'm at.
Really, though, it's my youngest that I worry about the most. He is in that cute phase where he teeters precariously and fearlessly on his chubby little legs, speed-babbling "golly golly golly" as he walks along, his belly leading the way. Cute, but dangerous. And he likes to put things in his mouth — his first teeth must be on their way. I really do need to keep an eye on him. He's going through separation anxiety, so he likes to keep an eye on me, too.
I love the days that my firefighter is home, when I can lock the bathroom door and have a relatively undisturbed hour of blissful silence. It's nice to have someone else to fetch the endless stream of toast and drinks that comes out of the kitchen.
It's on the days he's gone that I have to do some juggling. I can put the baby in his crib with some toys and let him fuss through his separation anxiety in there, which I do a lot, but it's hard to know he's in there crying. I can't relax — I end up hurrying through the shower. I could wake up early and get one in before the kids are up, but who am I kidding? I'll take stinky over less sleep any day. I can also take the shower late at night, but at that time of day, it's more annoying than refreshing. Why is that? How can something that is so pleasant in the morning be such a drag at night? I'm not sure, but thus it is.
So, the goal is to shower during the morning, preferably before I have to go out in public when I take my daughter to school.
Here's how I often do it. First, I get the older two snacks and drinks, even if they don't ask for snacks and drinks. Because at some point during the shower, they will eventually want one or the other. Then I settle the debate about which show to watch on the DVR — Team Umizoomi, or Dora the Explorer. Then I hit the start button: my timer.
Second, I close the gate at the top of the stairs, so even if they do break free from Dora's grasp, they can't quite get to me. But I can easily hear them and know if they really need me.
Third, to solve the separation anxiety and keep an eye on the baby, lately I've been depositing him here: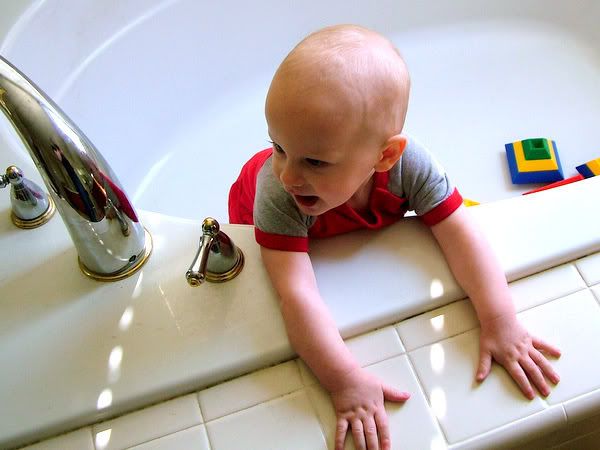 Rounded corners, sterile, within eyesight, easy to clean up — so far, so good!
This works for now. Check back in a month or two. I'm sure I'll have a different shower solution then. I know enough now to know that what I know now, won't work then. :)