People who don't get migraines often ask me what it feels like.
"How would I know if I've had a migraine? I've never had one... at least, I don't think so..."
"Oh, you'd know," I reply, while trying to suppress the feeling of pressure in my head that I fear will materialize, simply by thinking about it.
****warning — vivid description to follow****
Take this morning, for example. While I was sleeping, someone took a marble and pounded it into my skull, slightly off-center. Then they took another marble and forced it into my eyeball through the iris, on the same side of my head. At least, that's what it felt like.
Then there was my vision. It went all kinds of wrong. Sometimes it looks as if someone has turned the saturation way up:
Then, the edges start to get fuzzier and fuzzier as my field of vision closes in on me. The pressure starts to mount in my head, like having a bad cold.
(It pains me just writing this post!)
After the fuzzy hyper-saturation, things start fading away. At this point I'm usually in bed, loaded with drugs, with a pillow over my head in an attempt to shut out all light. This is when my pain typically turns stabby on one side of my head. If I haven't taken something to abate the pain by this stage, it's all over (meaning, the day is over. I'll end up in bed for a good five to eight hours.)
Catching the headache in time is the key. But this becomes problematic when it develops while I'm asleep, like it did this morning.
One time, prior to the fuzzy darkness invading the edges of my vision, I saw the image turning crystal-like around the periphery as if shards of Superman's ice-laden fortress of solitude were invading.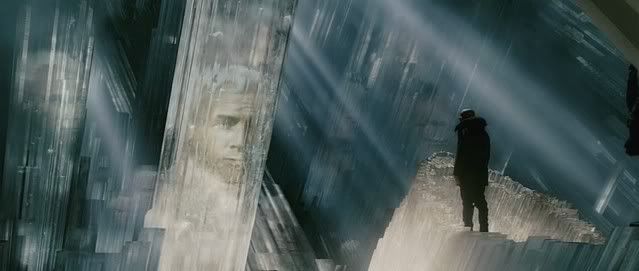 I had some other odd symptoms with that particular migraine. As my vision went, my thoughts became harder and harder to string together. I had a hard time thinking of the right words. And when I found the right word, it was difficult to say it. Eventually, I couldn't speak coherently. It was very interesting, actually. I spent a good twenty minutes with the visual and verbal disturbances, then suddenly, the pain that had been non-existent hit. It made me nauseated. I threw up, and five minutes later, the stabbing was gone. Just like that.
Today, however, I had a more typical migraine. It started bad and then ebbed and flowed all day with the help of medicine. I could feel it still there in the background during the better phases. Kind of like that sense of pending doom when you're in the shower and the nice warm water starts turning cold. You know what's coming. But there's no escape.
There is a silver lining to all of this doom and gloom and icy fortress of solitudeness. After the migraine?
Euphoria.
Giddy, feel-good, natural endorphin-fueled (in response to the pain) happiness. The contrast is amazing. For me, anyway. I don't know if other migraineurs experience the euphoria — I hope they do!!
Nothing brings out joy quite like a healthy dose of misery!