Why? Because cheesecake deserves to be enjoyed at the beginning of the meal. Because they're bite-sized, which means they are diet-friendly (at least, that's what I tell myself — portion control!) Because they are pretty. Because who doesn't love chocolate cheesecake!? (My husband, to answer that question. Weirdo.)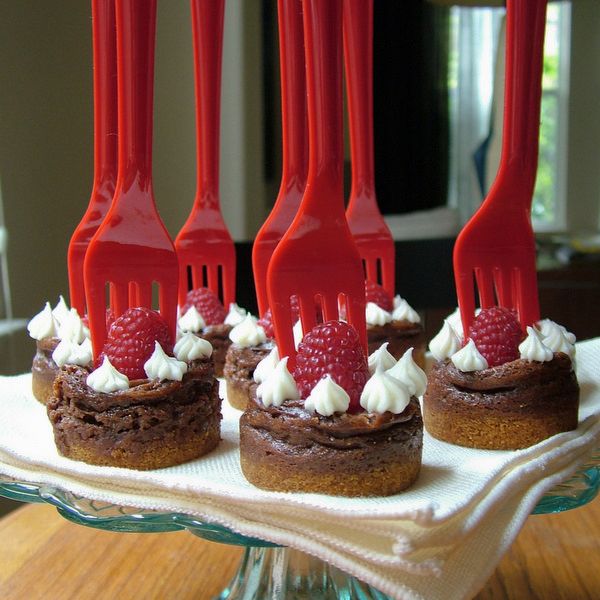 This is an ever-so-slight variation of the recipe my mom makes for Thanksgiving each year. With eight people in our household, there was a strict two-slice rule enforced regarding this pie. I still remember the pain of heading to the fridge the day after one particular Thanksgiving, searching for my carefully preserved slice of cheesecake nirvana, and finding an empty pie tin instead. I don't know who took it, but I haven't forgotten. You know who you are, stealer of my chocolate cheesecake, and one day, I will know who you are, too. And then — then I will exact my sweet day after Thanksgiving revenge! Just lettin' it be know.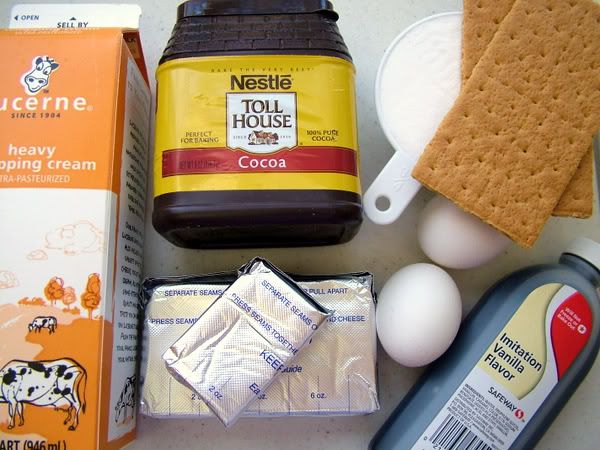 Yield - approximately 20 mini cheesecakes, or one pie.
Ingredients:
Cheesecake filling:
11 ounces cream cheese, softened
3/4 cup sugar
1/4 cup cocoa powder
2 eggs
1 teaspoon vanilla
1/4 cup chilled heavy cream
1/4 cup lemon yogurt (optional; can be replaced with an additional 1/4 cup heavy cream)
Crumb crust:
1 1/2 cups graham cracker crumbs (approximately 1 standard package)
6 tablespoons melted butter
1/2 cup powdered sugar
Cream cheese frosting:
1/4 cup butter (1/2 stick), softened
1/4 cup cream cheese (2 ounces), softened
3/4 cup powdered sugar
1/4 teaspoon vanilla extract
Fresh raspberries, washed and drained as a garnish.
Heat oven to 325°. In a large mixing bowl, combine the cream cheese and sugar for the cheesecake filling; beat well.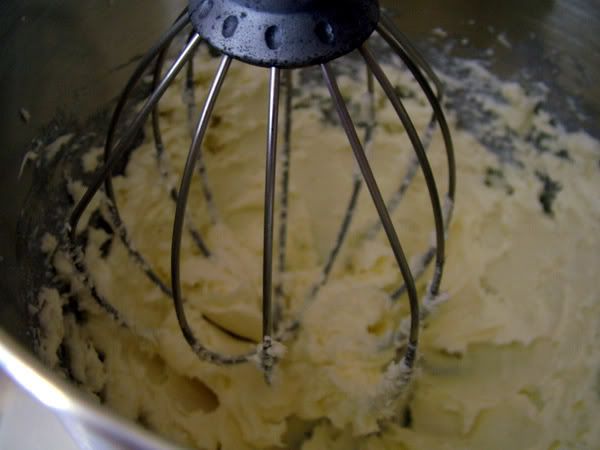 Blend in the cocoa, scraping the bowl and beaters frequently. Add eggs and vanilla; blend well. (My mom wasn't kidding when she told me to scrape frequently. These ingredients do not play well with others.)
Blend in yogurt and heavy cream (unwhipped). Set aside while preparing the graham cracker crust.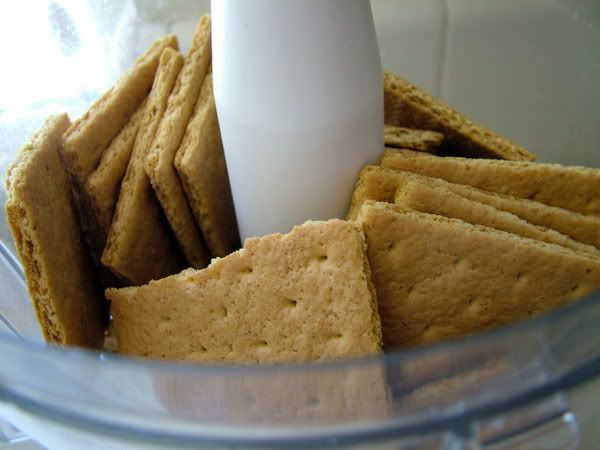 Pulse graham crackers in a food processor until all large pieces have been broken up. Pour in 6 tablespoons of melted butter and 1/2 cup powdered sugar. Pulse again until well blended.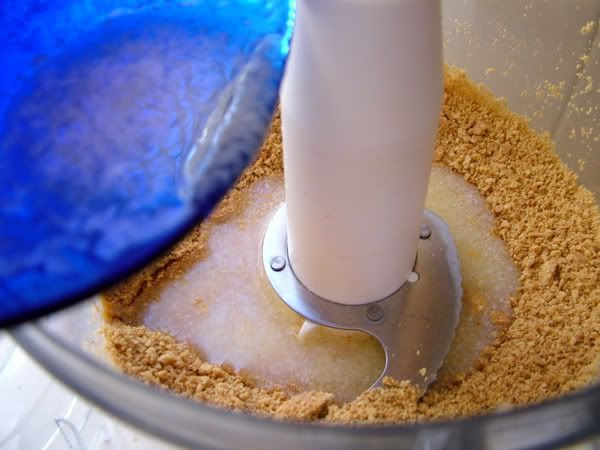 I used a mini cheesecake pan to make this recipe.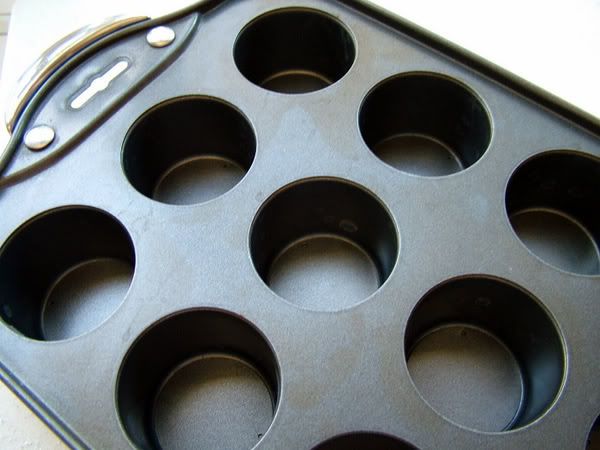 You could also use a mini muffin pan, lined with foil liners, or just bake it in regular pie form.
Scoop a tablespoon of crumbs into each cup and press flat. This lid from a 2-liter of soda worked great to press the crumbs down along the edges.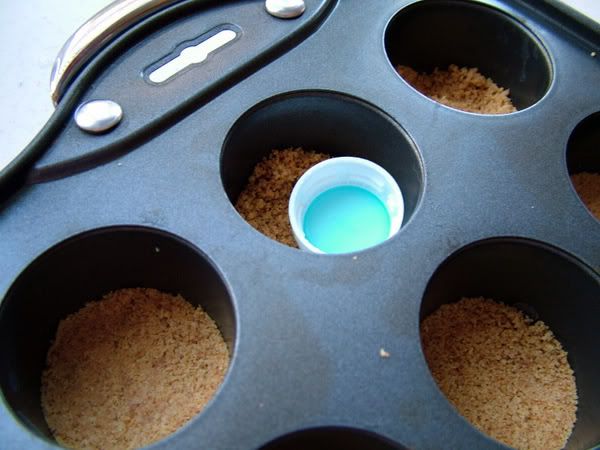 After pressing the crumb crust into place, if not using foil liners, spray the sides of the cheesecake pan liberally with a cooking oil spray. Place a heaping tablespoon of batter into each cup, filling the cup approximately 2/3rds full. The cheesecakes will rise quite a bit in the cooking process, and then fall back down when taken out.
Bake at 325° for 25 - 27 minutes. The center will be soft but will set upon cooling. Cool to room temperature, then cover and chill several hours or overnight. (For a pie, cook at 350° for 35 - 40 minutes.)
Prepare the cream cheese frosting by creaming together the butter and cream cheese. Add the vanilla and beat in the powdered sugar a little at a time to avoid the white dust cloud.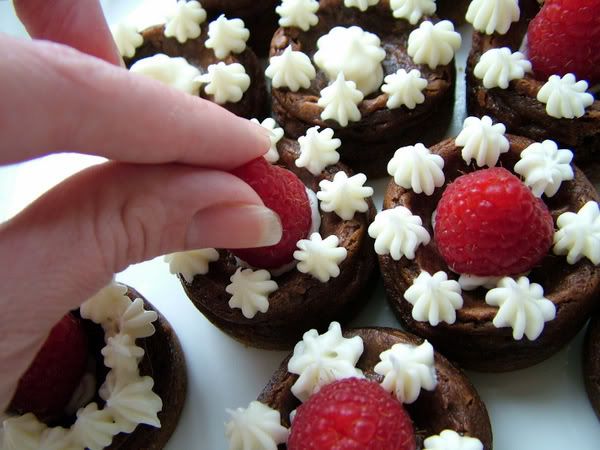 Garnish each cheesecake with cream cheese frosting and raspberries. Keep refrigerated.