If you subscribe to comments on my blog, you may have seen a less than honorable mention a couple of weeks ago. Rather than engage the writer, I just deleted the comment. (It was too foul for a family blog. Hi, Grandma!) But the email notification of the comment was sitting in my in-box. I shared the fun and sent it to my spouse. You just never know what post or topic is going to hit a nerve. Ah, the perils of blogging!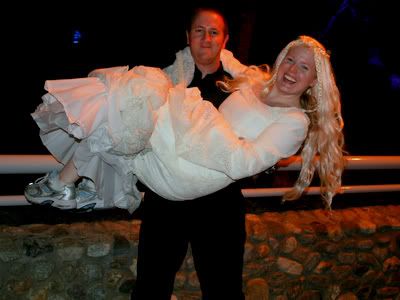 My guy decided to defend the honor of his damsel in distress. (Well, okay, I may not have the right to claim the title "damsel" after having birthed three children. And I wasn't in distress. More like, matron in disbelief.) You can read his post
here
. Please don't click if you're sensitive about shopping at Wal-Mart. To the people who shop there, I meant no disrespect. I myself shop at Wal-Mart! The initial comment was simply a reference to the popular blog. And please forgive my husband for his less than politically correct approach to defending his woman. Believe it or not, this is the watered-down version.
In other news, fellow blogger
Jen at Cabin Fever in Vermont
brought up the point that the Bloggies are currently accepting nominations. And, she suggested readers submit, among
others
, my blog as a possible contender for the category
Best Kept Secret Blog
. Thanks for the mention, Jen! And if you would like to consider my blog for the award, you can do so
here
. (They want three sites nominated at a time, so if you don't have other blogs you love, you can find some suggestions on Jen's post. Or you can pick from any of the fine options listed on my blog list.)
Thanks, to all of you, for letting me blog so randomly about all aspects of life (including this "other woman" in our marriage, a.k.a the fire department) and for overlooking the occasional inappropriate remark. :o