"Wow, that truck has been backing up FOREVER," I thought to myself as my oven repeatedly screamed at me to remove what was, at one point, a batch of cookies.
Sigh.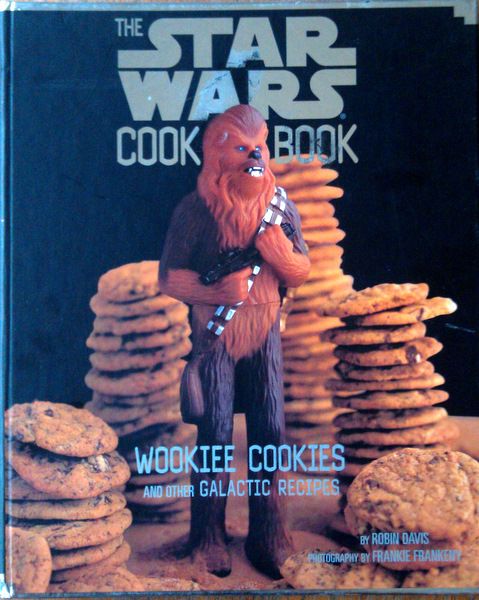 I made cookies this week. We have at our house an
endearing set of cookbooks
. One of the more recent additions was this Star Wars cookbook. I decided to make the Wookiee cookies featured on the front cover. Why? Well, who can resist the allure of Wookiee cookies? The book also features such recipes as "Hoth Chocolate" and "Han-burgers."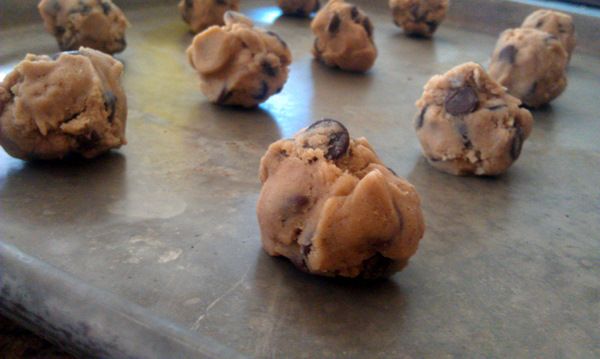 The recipe is your typical straight forward chocolate chip cookie recipe, with the addition of some cinnamon. I can tell it was written under the assumption that 12 year old boys might be doing the baking — the recipe mentions the use of pot holders twice, and details the use of a spatula to remove the cookies: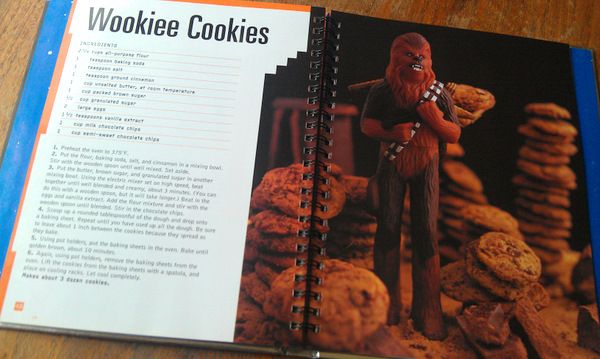 2 1/2 cups flour
1 teaspoon baking soda
1 teaspoon salt
1 teaspoon ground cinnamon
1 cup unsalted butter, at room temperature.
1 cup packed brown sugar
1/2 cup granulated sugar
2 large eggs
1 1/2 teaspoons vanilla extract
1 cup milk chocolate chips
1 cup semi-sweet chocolate chips
1. Preheat oven to 375.
2. Put the flour, baking soda, salt, and cinnamon in a mixing bowl. Stir with a wooden spoon until well mixed. Set aside.
3. Put the butter, brown sugar, and granulated sugar in another mixing bowl. Using the electric mixer set on high speed, beat together until well blended and creamy, about 3 minutes. (You can do this with a wooden spoon, but it will take longer.) Beat in the eggs and vanilla extract. Add the flour mixture and stir with the wooden spoon until blended. Stir in the chocolate chips.
4. Scoop up a rounded tablespoonful of the dough and drop onto a baking sheet. Repeat until you have used up all the dough. Be sure to leave about 1 inch between the cookies because they spread as they bake.
5. Using pot holders, put the baking sheets into the oven. Bake until golden brown, about 10 minutes.
6. Again, using pot holders, remove the baking sheets from the oven. Lift the cookies from the baking sheets with a spatula, and place on cooling racks. Let cool completely.
Makes about 3 dozen cookies.
Here's how the cookies turned out (the second batch, anyway):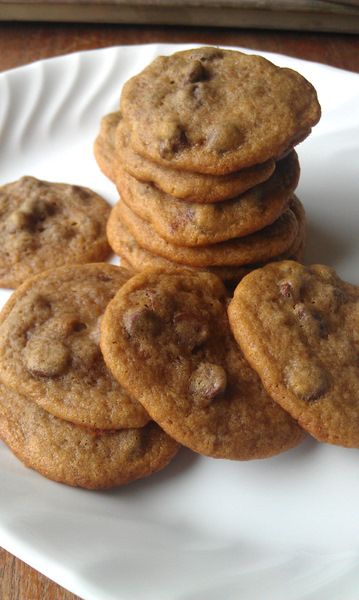 Very nice, very nice.
What's that you say? I completely agree — there's a serious amount of Wookiee missing from these cookies! (Most of the recipes in the book had this issue of having a catchy name, but not producing a product that has obvious Star Wars connections.)
So, I decided to take matters into my own sleep-deprived, novice-baker, shaky hands. I had some cream cheese frosting left over from the batch of
raspberry bites
that I had made, and some left-over chocolate chips to melt.
I don't know... I think they turned out looking more like hippies than Wookiees.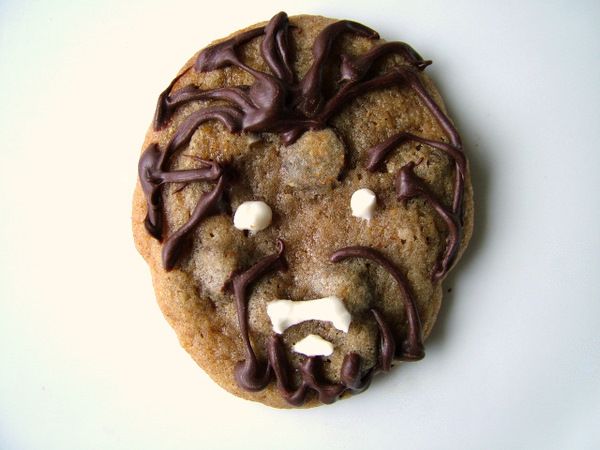 "And you know what the worst part was? I had to spend all of this time on that freakin' cold snow planet, Hoth. I wanted to die, man."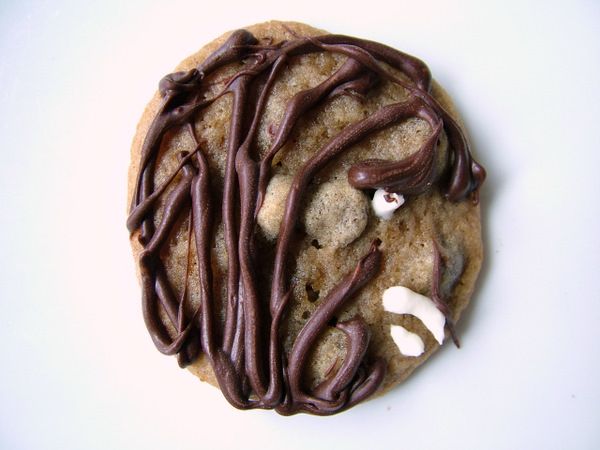 "Oh that's rough, dude. Solo should give you a raise. And some paid time off, for sure."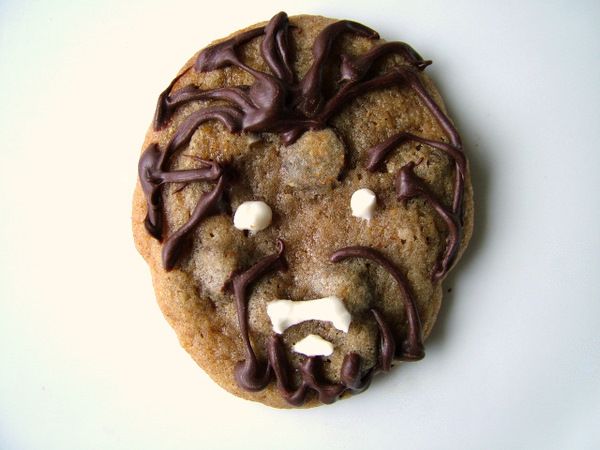 "I know. The man is bringin' me down. It's tough, though, to get any sort of benefits in this economy. The threat of the empire taking over has totally tanked the market. I don't know how we're gonna recover from this one."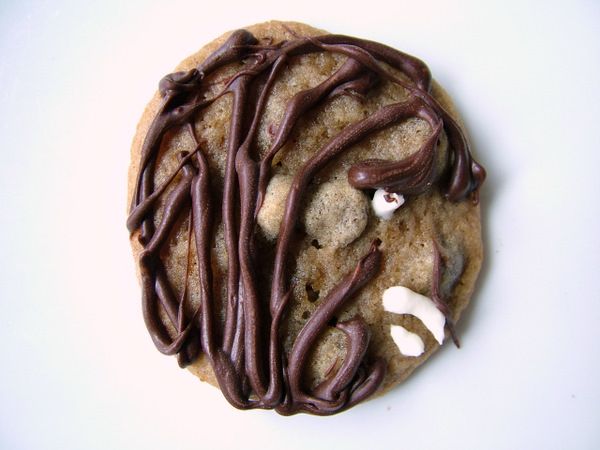 "I know, man. Tough times. Hey — do you ever think about leaving the rebellion, and — you know, settling down, and starting a family? We gotta make love, not war, man."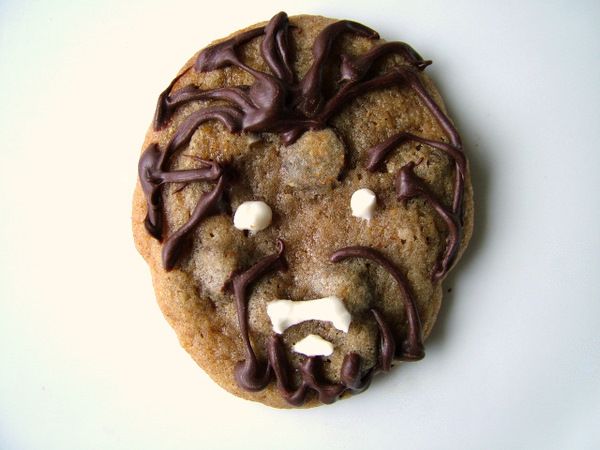 "Sometimes. But you know, I just haven't found the right Wookiee. I'm too busy, workin' like a dog. Maybe someday."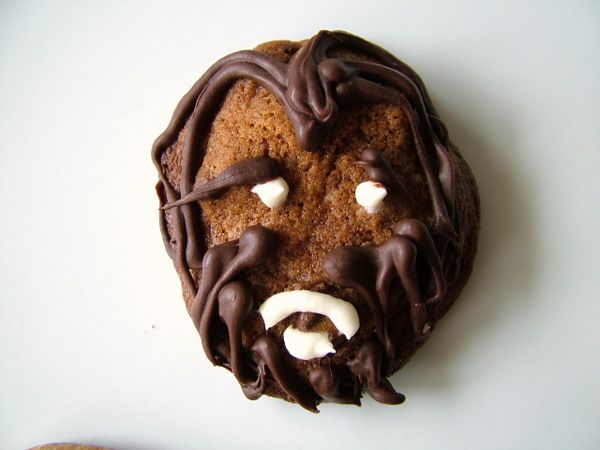 "Hey guys, what's up?"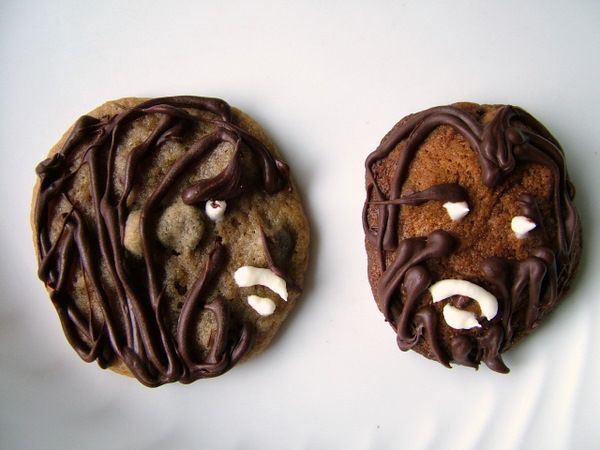 "Dude! What happened to YOU!? You look fried!"