The thing about being addicted to food — it's an easy addiction to admit to. Other people have the same love/hate relationship with chocolate. There's a camaraderie in the enslavement. It's the less common addictions that I find more embarrassing to admit to. I don't have any habits on the same level as sleeping with a blow-dryer turned on, but I do have my share of unflattering addictions. For one thing, I'm addicted to blogs. I do a lot of blog hopping. In the early days, before I had any idea what an RSS feed was or how to set up a reader, I would mindlessly click through my blog list a ridiculous number of times throughout the day — because there was always the possibility that someone had posted something. It was a red-cheeked day when I learned that all of those little clicks could be tracked and identified by the blog owner. Someone's site meter was very happy. I still click through blogs. A lot.
More recently, I have become addicted to Bejeweled Blitz.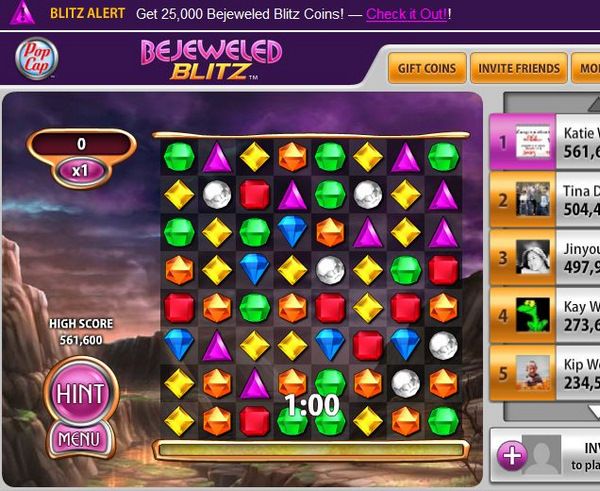 It started when I was up in the middle of the night feeding the baby. I needed something to look forward to; something to make getting up at 3:30 seem somewhat appealing. So, I kept a stash of Oreo's at the computer (only to be eaten while taking care of the baby at night), and tried out a slew of Facebook games. In the end, I settled on Bejeweled. The 1 minute game was a perfect fit. It was just the right balance of simple yet mentally challenging. I used it to occupy those many moments that required me to be at least somewhat coherent. And, I could be done with it at a moment's notice if needed. (Wow, just realizing how apropos a game like this would have been during my five year stint in a cubicle!)
These days, I play simply because I'm addicted, and because I can't let my friends beat me. (Yes, Jin and Tina, I'm looking at you!!) Some people pace the room when deep in thought. Others may drum their fingers. Bejeweled can't be much worse than those I-need-to-think practices, I say. And it's probably better that, of the two, I gave up the Oreo's instead of the game.
Still — looking at my stats and seeing just how many minutes I've spent playing this game? For shame, Katie. For shame. We're talking thousands of games here.
Do you have addictions that you're not exactly proud of, but not willing to forsake?
It would be a downright tragedy not to have learned something from the hours I've spent on this habit. It would be an even greater shame not to pass that information on to other aspiring Bejeweled addicts who might be searching the internet for guidance.
Fear not, searchers of the internet who have come for tutorial. This is for you.
Seven Habits of Highly Effective Bejeweled Blitz Players
1. Turn the sound off.
You can do so by selecting that little gear symbol on the bottom left there.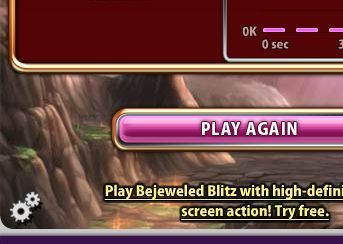 No multi-tasking the brain. There may be those out there who prefer to play with the sound on, but I think you all must be nuts. I still love you, even though you're crazy for willingly listening to those sound effects.
Besides; there's possibly some science behind my theory. I heard somewhere (very reliable source, no?) that the brain acts similar to muscles in that there's a "re-load" period. So, for example, if you drive your car while carrying on a conversation, your reaction time may be slowed because your brain, already in use, needs to take a millisecond or two to process new information. If this theory that someone somewhere told me is true, then you may be slowing your reaction time down for Bejeweled, too.
But mostly I think the announcer voice is comically low and enthusiastic, and I can't concentrate because I'm laughing.
2. Go before it says "go."
The gems can be moved as soon as they appear.
3. Don't look where you're at.
I was guilty of this when I started playing. I'd line my gems up, watch them disappear, then mentally say "oooh, shiny!" as the gem pile shifted. The trick is to look at a different quadrant of the board while you finish dragging your gem into place. This way, you're scanning a section of the board that won't shift on you. If you look only where you're already at, you have to wait till the pile settles before finding your next move. Instead, look for what's next while the gem pile is still falling into place.
4. Throw the gems.
Along with looking away from what you're doing and scanning a stable part of the board, move the gem you've clicked on as fast as you can. This way you can get the cursor over to where you're scanning as quickly as possible.
5. Good games come in clusters; use boosts then.
I don't know why this happens, but the good games seem to come in groups. I generally don't waste my boosts until I've had a couple of good games in a row.
6. Know what boosts to use.
The three I use are the mystery gem, the +5 seconds, and the free multiplier.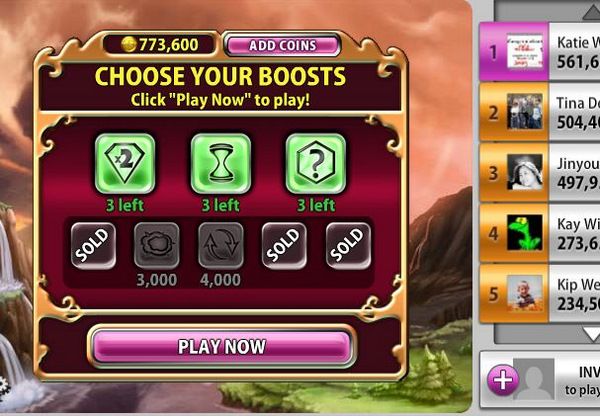 I only use them when I have enough coins to use all three together. I don't like the detonator because your special gems will detonate at the end of the game anyway. And I avoid the scrambler because using it is the equivalent of mixing up the cards in the middle of a game of Memory. Not good; not good at all.
And for heaven's sake, don't ever buy coins!! No wasting good money on this. It's not allowed. If you do so, you'll get a thousand evil side-eyes from everyone you know on Facebook.
7. The hint button is your friend.
I still use the hint button from time to time. Theoretically, there will always be a playable option on the board (I've only had two games, ever, when there was no possible move). There's no use wasting valuable seconds when the hint button is right there. Also? If you can't see a playable option, chances are the gem to be moved is next to something flashy, or along the edge of the board. Those two areas seem to throw off the visual recognition pattern that playing this game depends on.
8.
(I know; I said seven. But this is more of an afterthought, anyway.)
Every once in a while, get up and leave in the middle of a game.
Don't push pause. Simply walk away, just to prove that when all is said and done, the game does not own you. You are in charge of your fate. You CAN answer the phone, or even the door. There's a world outside, and it's got some great things to offer.
Plus, you probably need a re-fill on your beverage.