Once upon a time, I was lonely.
I remember those days. I used to hang out in busy places so that I could feel less lonely while being alone. I used to do things like soul-search, acknowledge the sky, and finish entire meals without getting out of my chair 3 to 5 times. (Does anyone else think that food tastes different when you're standing up than it does when you're sitting?)
I used to understand the desire to own a dog.
But now, 12 years later, those memories are fading. This is what happens when I try to get some time to myself now: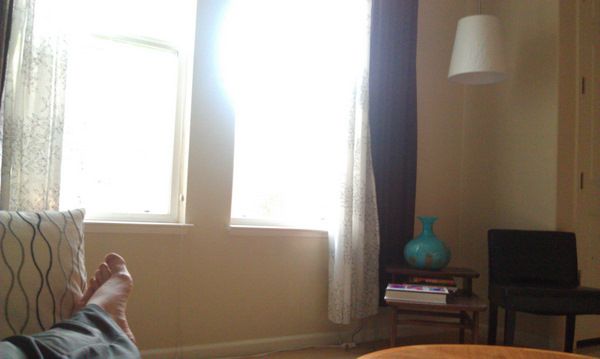 Here I am, resting on the couch, thinking maybe I'll check in on my brain and see what she's been up to lately. We've got this move (hopefully) coming up and I need to get organized.
Just when I'm in the midst of having a design breakthrough regarding the dining room, a little friend shows up.
Hi, friend. He's always about 3 inches away from my nose.
I love my little friend, but he doesn't do too well with the social back-and-forth of discussing things yet, especially when it comes to interior decor options.
He thinks that the red wall paper should stay.
After climbing on my leg and shoving his pointy little elbow into my shin five times as he gets situated, he suddenly bolts up and runs into the other room. One by one, he brings me some more friends. Their fuzziness mitigates the sharp bones, so they're a welcome addition.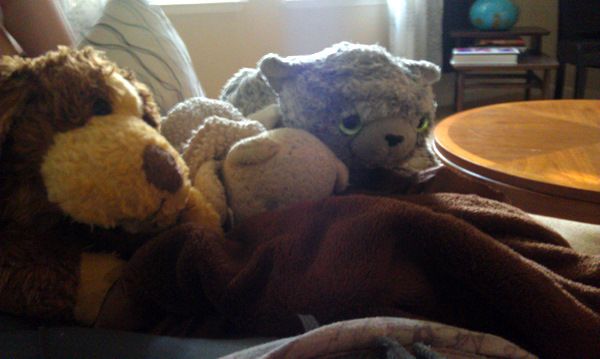 Hey look, there's the cat, too.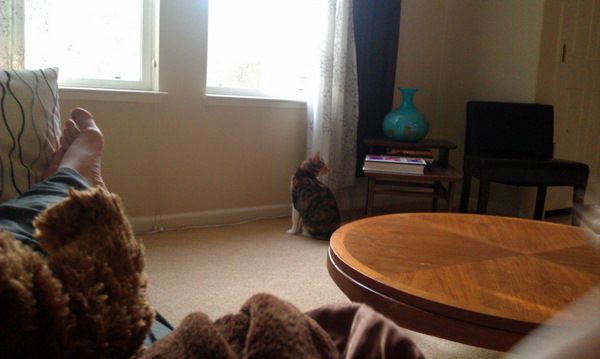 At this point, the other children are alerted to my whereabouts and my brief moment of silence on the couch comes to a high-pitched end.
It's nice to be loved. One day I'm going to miss those bony elbows. I think that one day I'll concede that sleeping through the night isn't worth the absence of little people in the house. For better and for worse, I'm never lonely anymore.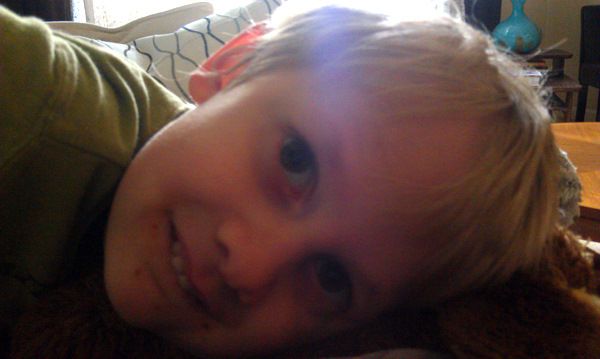 That goes for both of us.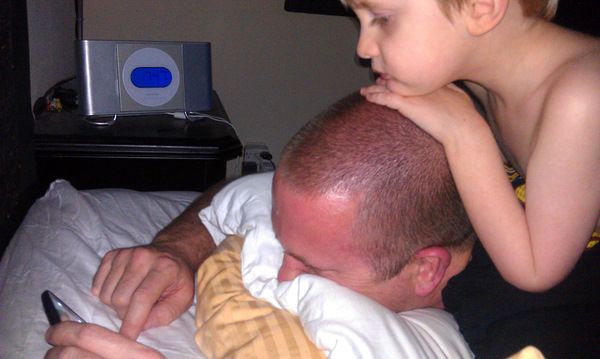 ------------------------
On a completely unrelated note, I've installed this fancy comment thing on my blog that allows me to reply to individual comments (yay!) If you are having trouble with it, can't get it to work, or think it's terribly annoying, please let me know so that I can poke around in the HTML and pretend that I know what I'm doing. Thanks. :)