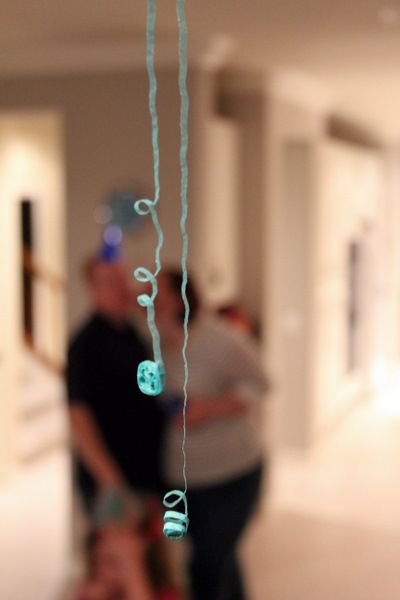 It really was a happy new year's weekend. We had house guests, friends of the oldest and dearest sort, and partied like it was 1999. Literally. Both years, my husband and I spent the evening sitting around a table playing games. We're crazy wild like that. Not that we wouldn't go to a more traditionally fun NYE party should one come our way... it's just that we're way too tired to seek those things out and find babysitters to boot. And our friends rock — if we're going to expend energy we don't have, this is how we do it. We would be crazy to pass up a game weekend with such great people!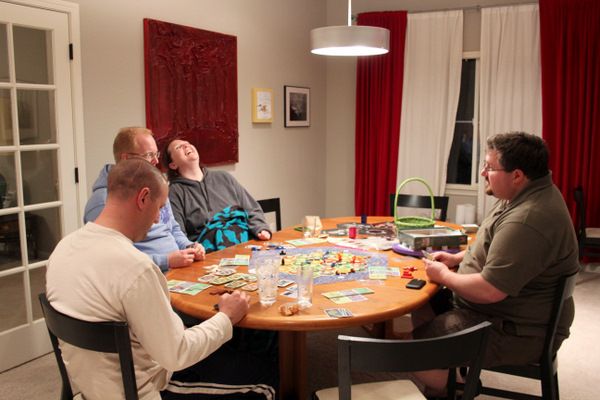 And yes, we're geeky enough to have two games set up so that when we want a change, we just have to sit on the other side of the table. (Half of you are probably thinking "genius idea!" The other half are searching the rooms for the Lord of the Rings paraphernalia and thinking that we're just one Star Wars poster away from completely teetering off the normal chart.)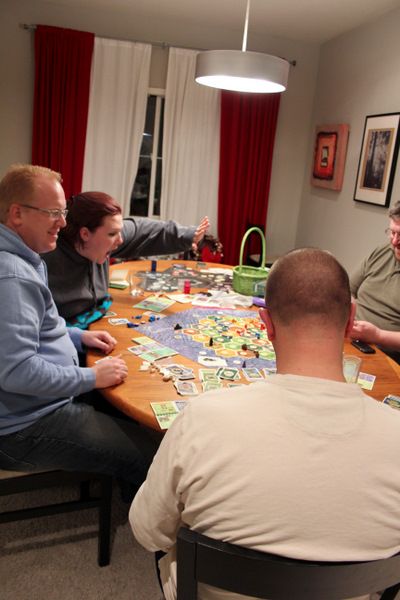 Cards, board games, pictionary, Rock Band... we play it all.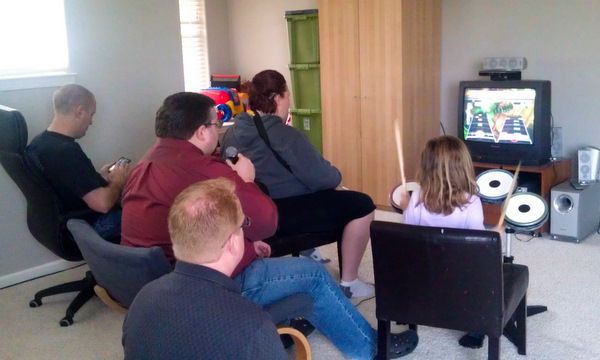 The kids insisted on a more traditional interpretation of the holiday. When I couldn't find 2012 goggles at the dollar store, they decided to do what they always do when I fall short of complete holiday compliance — they took matters into their own hands and made masks.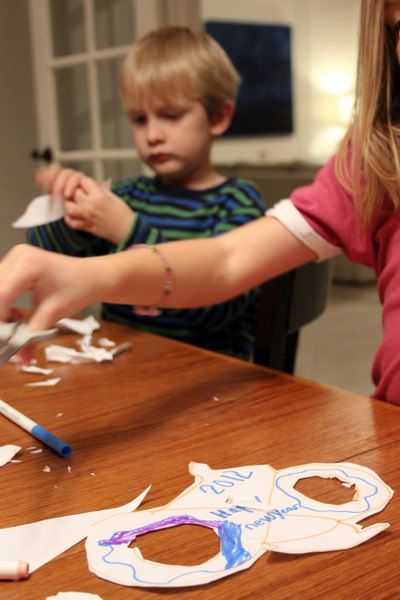 They made one for me, too. They're real forgiving about my incomplete holiday compliance issues.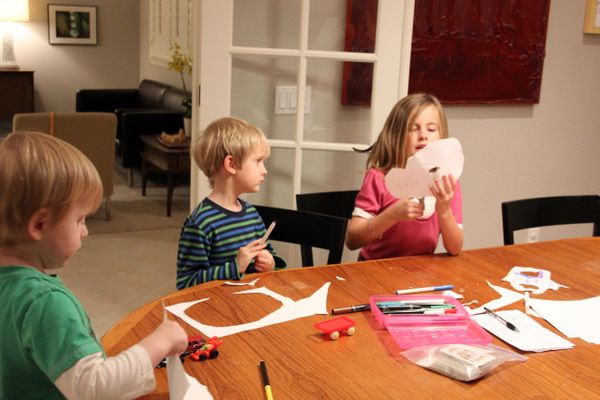 This little man said he was ready to celebrate the new year because he had his "party pants" on.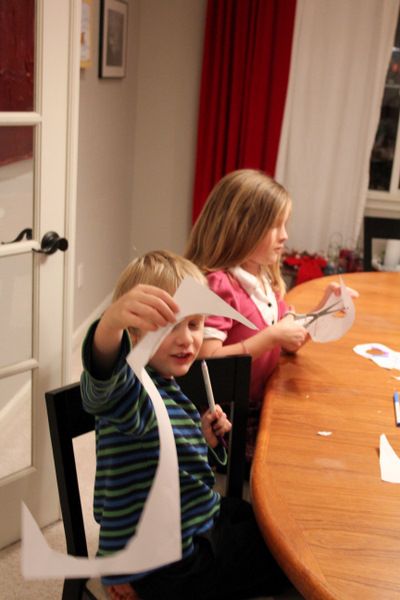 Apparently this other little man didn't get the party pants memo.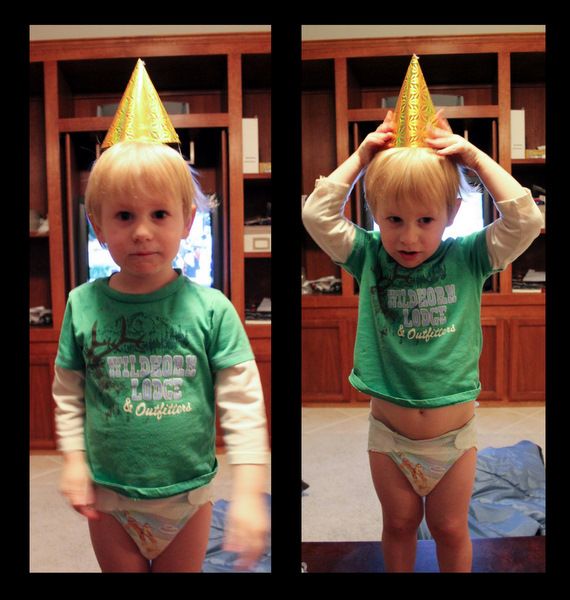 (Your turn to change the diaper, honey! I can't bend. I have a person in a bubble lodged in my mid-section.)
We watched the ball drop, counted down, and made lots of noise when 12:00 rolled around.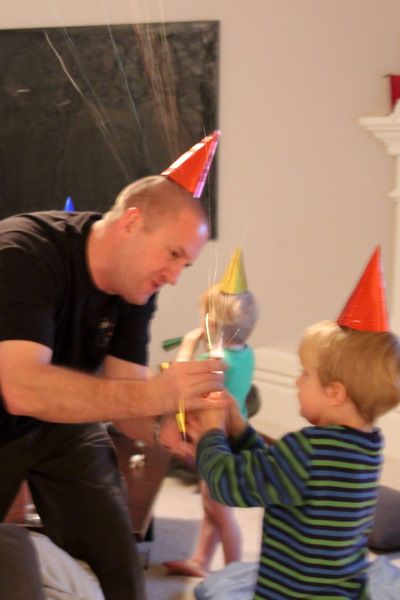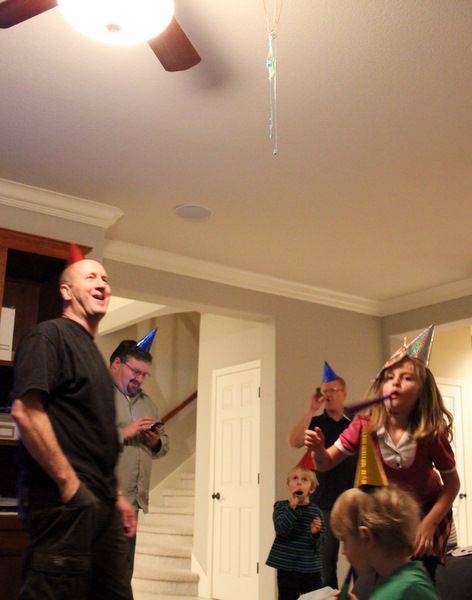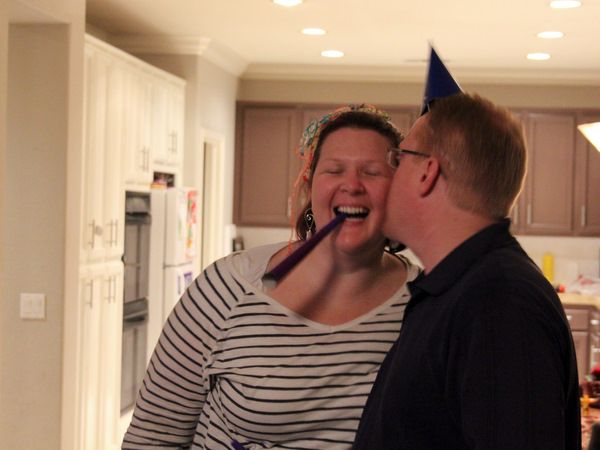 The kids then were promptly shooed off to bed, reminded of just how many hours it was past their bedtime, and the grown-ups got to play some uninterrupted games.
This is where the ingeniousness of the evening really paid off. Unbeknownst to the children, we set all of the clocks in the house three hours ahead. The decision to make it 3 hours was arbitrary, but we later realized that it would allow us to watch the ball drop on the other side of the country and lend credibility to our little ploy.
The kids totally bought it!!
I don't know how they managed not to notice that it mysteriously didn't get dark until after 8:00 that night. Their impatience worked to the plan's benefit. Next year, I think I'll do the clock switching while they're watching a movie in the evening. Movies are good at screwing up the perception of time passing.
As for the real 12:00, we almost missed it. Somehow we managed to remember it with something like 10 seconds to spare.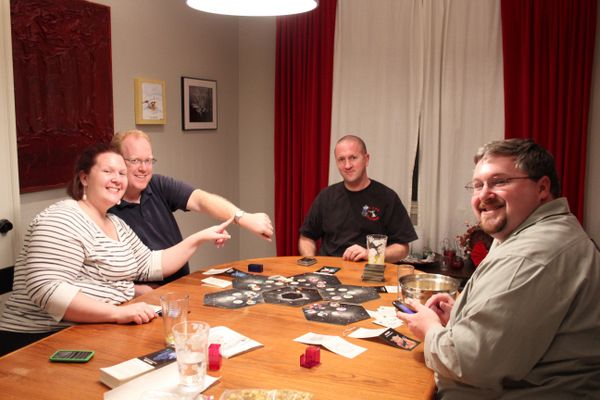 Happy new year, indeed!!
I would have done well in a card-playing society like the 1800's. I would have kicked some trash playing Whist! (For those of you who have read a Jane Austen novel or two, I looked it up and Whist is an early version of Bridge. It's a trick taking game played in couples. Who knew?)
While we partied like it was 1999, so many things have changed since then. This time around we had three children to con into going to bed at a decent hour. And this time, we played at a house we sort of own. (I don't think I'll feel like I truly own it until we have paid off at least half of it.) In December of 1999, we had just moved into our
tiny apartment
that would be our home for the next 10 years.
Have I mentioned
the tiny apartment
? I just want to make sure I mention
the tiny apartment
, because
it was tiny
, and we lived in it for a long time. And apparently, living in
a tiny apartment
near the poverty level for nearly a decade has a lasting effect on one's psyche. And yes, all of those links are to separate posts about
the tiny apartment
.
My New Year's Resolution — forgive and forget
the tiny apartment
. And keep partying like it's 1999, hopefully adding some new faces to our game table.