I had some time to kill at Target while I was waiting for the pizza to be ready for pick-up. Because SOMEONE wanted to finish his game before he ordered it. So really, this is all his fault.
I occupied myself by lingering in aisles my frugal self normally avoids because I know I have certain weaknesses. I meandered down the lamp aisle and found these on an end-cap: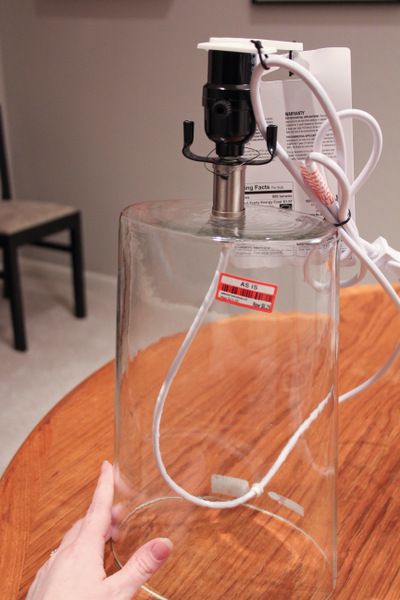 What caught my attention first was the price tag. $6.26?? For a full-sized glass lamp? Awesome! I kind of have a lamp addiction. I don't buy nearly as many as my heart wants me to buy, but enough so that my husband says "uh-oh, is it a lamp?" when I call to tell him I might bring home something not on the list. And then I usually put said lamp back because I talk myself out of it.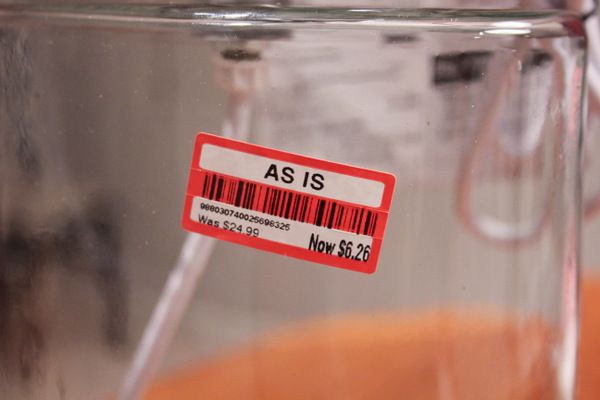 But these lamps were more alluring than normal. Free light bulb, too!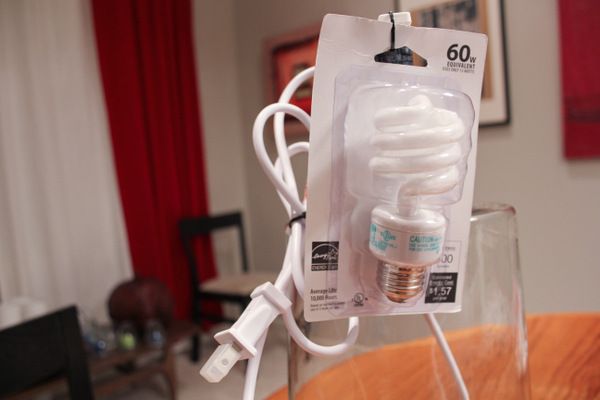 After noticing the price and the light bulb, I picked a lamp up to inspect it closer. That's when I noticed that there is no base; the structure is a simple open-ended glass container.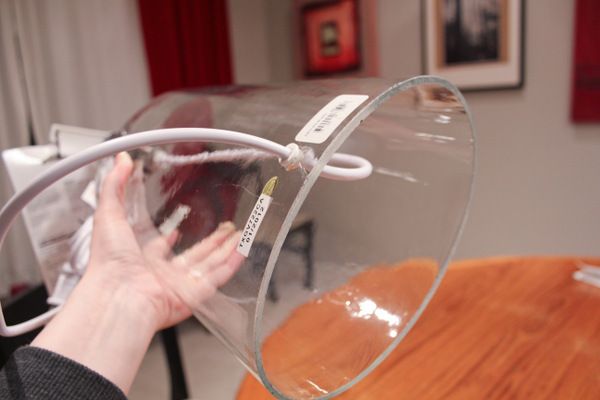 I realized how quick and easy it would be to customize these. I could buy one of those little paint samples at the hardware store mixed to absolutely any color to perfectly tie the lamp into the scheme of a room. Then I'd paint the inside of the lamp, being mindful of the cord, and it would make the paint look like glass — similar to the effect of painting this clear plastic snowflake:

The paint would hide the cord and make the lamp look worth way more than $6.26. For the kids' rooms I could create designs or letters to plaster to the inside of the glass using clear epoxy, then apply the paint.
I could affix any items to the inside using the epoxy — flowers, stones, bark, sand... anything! I could even simply place the lamp over some small item.
One thing led to another and I didn't put the lamps back on the shelf. I also didn't tell my husband I was bringing them home — the risk of being talked out of it was too great. I got the "uh-oh" when he unloaded the car. :)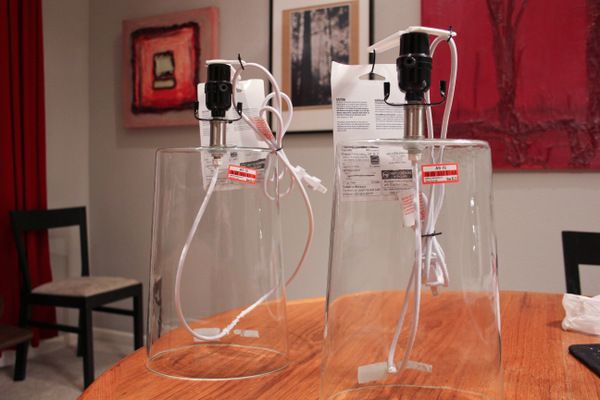 Eventually I'll paint these. Eventually. I posted about the lamps now because I wanted to share the good value before they all disappear. I'll show you the finished product when it happens.
Tell you what... my husband is lucky that I only came home with two!!