Today, Colorado is burning. And today, my husband is working for free.
These two circumstances remind me that fire is a destroyer.
My heart goes out to those in Colorado who have lost their homes. I can't imagine how the children who lived in those houses are coping. I can only hope that they have a grandparent nearby to stay with while "normal life" is being reconstructed.
The second circumstance involves a firefighter in my husband's department who passed away last week at the age of 65 — not from fire or as the result of a accident, but in a much more traditional firefighter fashion — from cancer.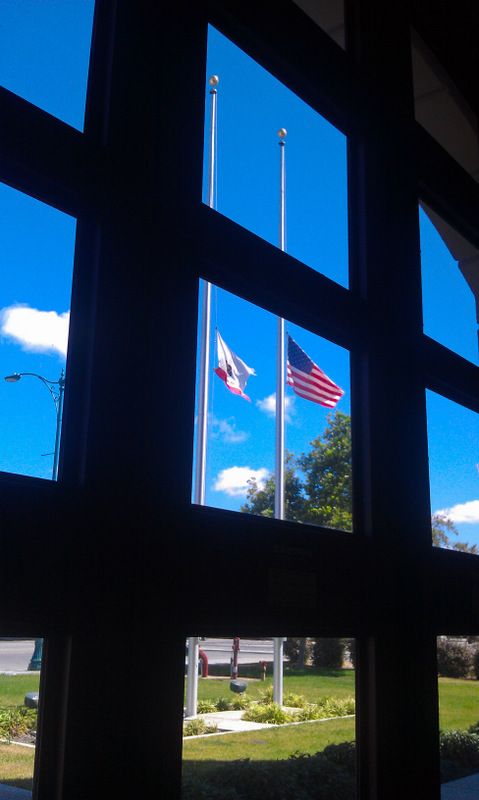 My husband sent me this picture today of the flags at half mast in honor of the fallen firefighter.
Nearly every apparatus in my husband's department will be in the procession. To make sure the residents are still covered, a nearby city graciously offered to staff the stations. My husband is one of the firefighters who has offered to help these new crews out, to ride with them, since they are in unfamiliar neighborhoods — he's "bird dogging," as they call it. At a time like this it's very apparent that there is a strong link between firefighters. There's a reason why the profession is stereotypically called a brotherhood. Today highlights that bond.
This firefighter, as too many in his profession do, lost 13 years of his life (compared to the average life expectancy) as a result of the job.
That is sobering.
I guess the daily small abuses of the job eventually take their toll in the form of heart attack, stroke, and cancer. The agitation from the adrenaline that surges when the tones go off in the middle of a deep sleep must add up. The exposure to acrid smoke and other toxins must make the job quietly and subtlety dangerous. The stress from the scenes witnessed has to take a toll. The manual labor seems to exacerbate any weaknesses in the body. Routine surgeries caused by job-related wear and tear
can lead to sepsis
, apparently.
These are the hidden causes of line of duty deaths in the fire service.
Hopefully, as technology and techniques improve, the job will become less dangerous. I firmly believe that my firefighter will be pushing up the firefighter life expectancy average. So much has improved as far as safety is concerned. Caution trumps risk. The ability to "eat smoke" before masking up isn't the badge of fortitude it once was. At least, not on my husband's crew. Now, entering a building and holding out before putting a mask on is just a really bad idea. Especially since houses are so full of synthetic material these days. These aren't the wood and natural fiber houses of yore.
The elders on the department have learned through painful experience what not to do. Those who have gone before and have ushered in dramatic changes to the way things are done have given the gift of years of life to the next generation. That is no small gift. I'm personally very grateful. This firefighter's battle with cancer reminds me exactly how grateful I am for the advances that have been made.
It also reminds me that we still have a long way to go to reclaim those thirteen years too often lost to fire.