Giving the baby a bath has always been one of the most awkward chores for me. When I was pregnant with my first, I had delusions of happily washing the baby in the kitchen sink. It took me just one time to realize that holding a floppy soapy baby upright for an entire bath in a sink was just not gonna work for me or my sink. It took too much supervision and I only had one hand free at any given time.
Next I pictured my baby comfortably resting in the standard plastic baby tub. This was fine, but the problem was that I didn't particularly relish having a big plastic baby tub in my bathtub. And apparently I bought the wrong tub because the baby kept sliding down, so I still had the problem of just having one hand free. That tub exposed the baby to a lot of cold air, too. Bath time was never a happy occasion.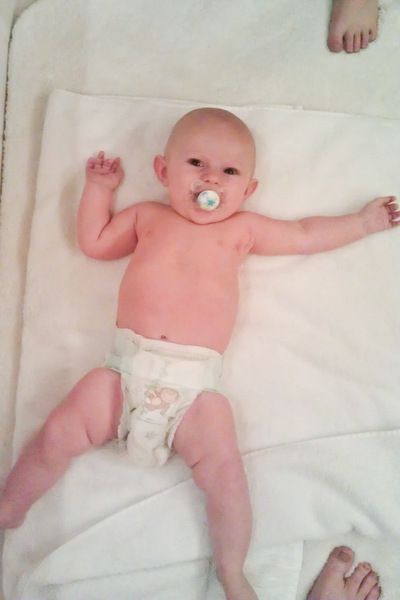 It has taken me four children to come up with a bathing method I like. What can I say, I'm a slow learner. I like this method because it doesn't kill my back since the baby is laying down, doesn't involve a large plastic bathtub with a baby balled up at the bottom of it, and rarely results in the baby bursting into tears. I think this came from one of the many new parent manuals that was given to me in the hospital. I actually looked through those manuals because I still don't know what I'm doing half the time. And because I had the baby manual nurse nazi on my case. Except she had an Irish accent, so maybe she was the baby manual nurse IRA enforcer. She even threatened me with a quiz.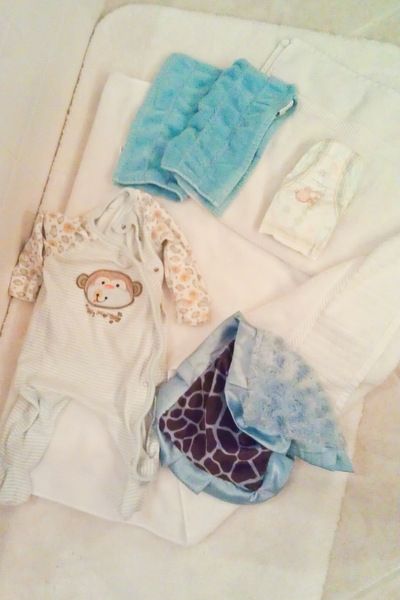 Anyway, so what I'm saying is, I like this method. I get all of my towels/clean diaper/clothes/soap ready first. I fold the towels this way so that there will be padding for the head in the water,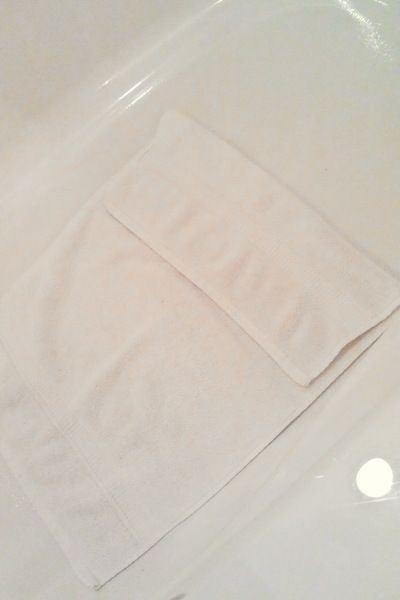 and padding after the bath with a flap left over to cover the baby.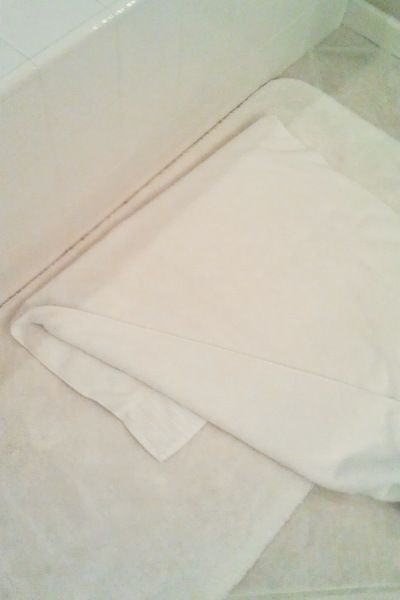 I put the water in while he's laying on his floor towel. Since it's such a shallow bath, the water gets cold quickly.
I put the hand towel in the bath, undress him right there, and place him in the water, paci and all. There's less than an inch of water in there; just enough to be able to get the wash towels wet when needed.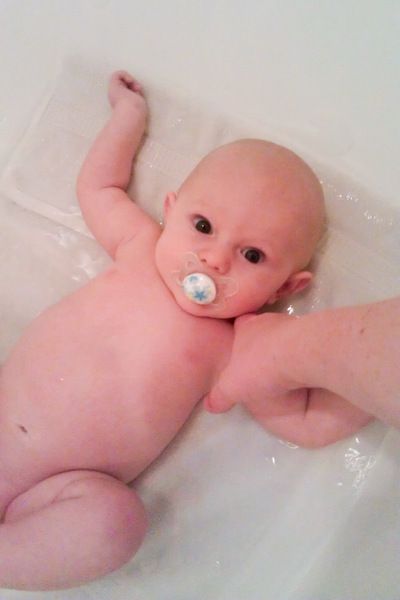 One hand towel goes over his tummy to help keep him warm while I wash the rest of him. I usually start with the legs and work my way up, since the head is where he looses the most amount of heat. The nice thing about a flat, shallow bath is that I can easily keep him safe while I get soap and such. No strain on the back and I can have two hands free when needed.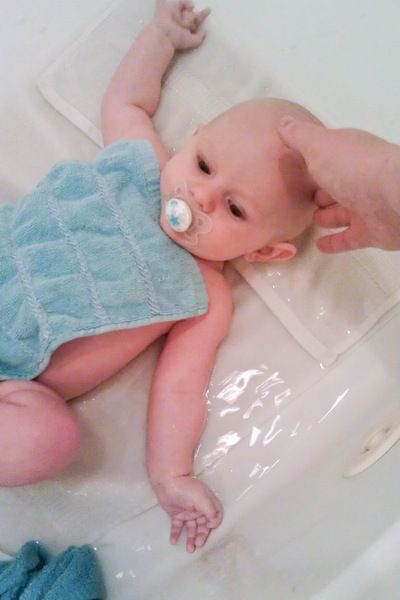 The hardest part is getting his neck creases. I like to sit him up and hold on to him like this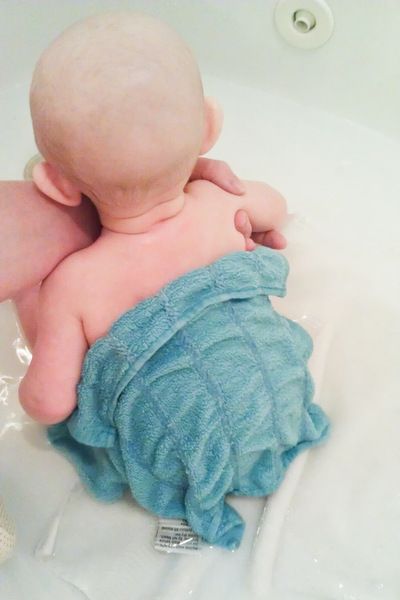 to get better access to the neck folds and to wash his back. What a cute little bug!
Then, once he comes out, I can quickly fold the towel over him, dry him off, and get the diaper on asap.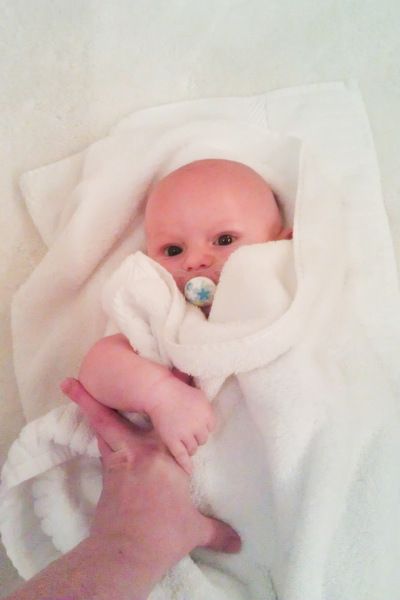 I give him something fuzzy and warm to put on his tummy while I get his clothes on.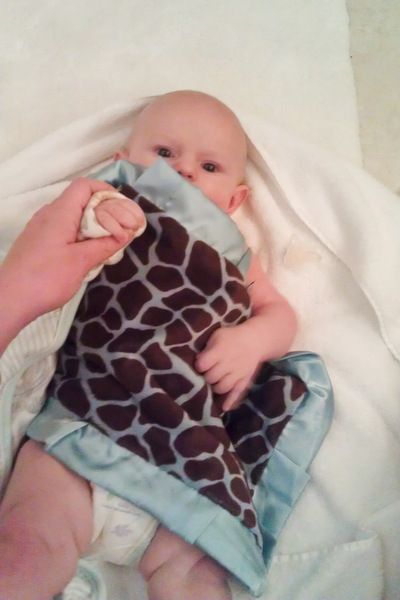 He really likes bath time; the first of my children to enjoy it!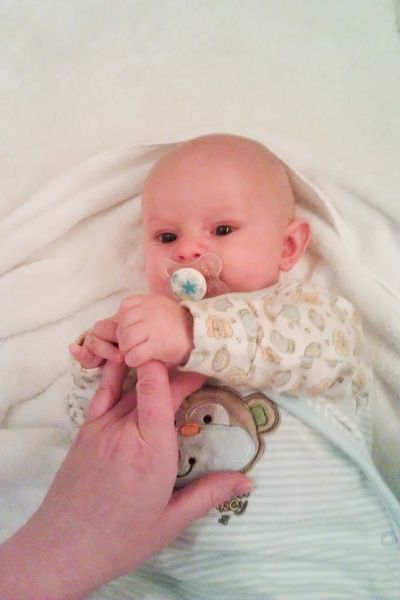 And I don't dread it, either!
Mmmm... freshly bathed baby smell...